All About
Mythic Delirium Books, the micropress run by Mike and Anita Allen, specializes in speculative fiction and poetry, with a penchant for writing that's challenging to classify.
Our imprint provided homes to Mythic Delirium, a digital journal of fiction and poetry, and Clockwork Phoenix, a critically-acclaimed anthology series that showcased stories that don't easily fit within standard market boundaries.
In recent years we've shifted our focus toward eclectic books that match our aesthetic, such as C.S.E. Cooney's World Fantasy Award-winning debut short-story collection, Bone Swans, and Theodora Goss's Mythopoeic Award-winning collection of poetry and fiction, Snow White Learns Witchcraft.



A brief history of our imprint

Mike and Anita published their first anthology, New Dominions: Fantasy Stories by Virginia Writers, in 1995. In 1998, Mike started Mythic Delirium as a poetry-only biannual print journal. It was picked up by DNA Publications in 2000, joining a family of magazines that included Weird Tales.
In 2005, we took Mythic Delirium independent again. In 2006, we created the Mythic Delirium Books imprint to produce two anthologies of poetry and fiction in collaboration with Prime Books, MYTHIC and MYTHIC 2. That same year we began publishing our magazine under our imprint.
The MYTHIC anthologies were the precursor to the Clockwork Phoenix series. The first three volumes of Clockwork Phoenix were published from 2008 to 2010 by Norilana Books. In late 2011 we began the process of transferring the Clockwork Phoenix series from Norilana to our Mythic Delirium imprint. In 2012 we held a successful Kickstarter campaign that allowed us to produced Clockwork Phoenix 4 under the Mythic Delirium banner.
A second successful Kickstarter in 2013 allowed us to convert Mythic Delirium from a print zine that only published poetry to a quarterly digital journal that exhibited poetry and fiction. A third Kickstarter in 2015 allowed us to produce Clockwork Phoenix 5, a World Fantasy Award nominee.
We also published the Mythic Delirium anthologies, compiling fiction and poetry first published in the digital zine, that could be viewed as a continuation of the MYTHIC series. Though we retired the magazine in 2018, the possibility remains that we could produce more Clockwork Phoenix volumes; in fact, we haven't kept it a secret that we consider our most recent anthology, A Sinister Quartet, to be the unofficial sixth book in the series.
Use the menu bars above and the widgets in the right-hand column to explore our many ventures, and watch this site for announcements of more projects.

Note: all the archives of the digital issues of Mythic Delirium remain available for free reading on this site.
Who we are
Mike Allen
(
Publisher, Mythic Delirium Books
) edited
Mythic Delirium
magazine and the
Clockwork Phoenix
anthologies before turning his focus toward single-author collections and more experimental books. He's author of the Shirley Jackson Award-nominated horror story collections
Unseaming
and
Aftermath of an Industrial Accident
, as well as a finalist for the Nebula Award for short fiction, a two-time finalist for the World Fantasy Award, and a three-time winner of the Rhysling Award for poetry. Find out more about his latest writings at
DescentintoLight.com
, and follow him on Twitter at
@mythicdelirium
.
Anita Allen (Assistant Publisher, Mythic Delirium Books) worked as assistant editor for Clockwork Phoenix and Mythic Delirium, and co-edited the Mythic Delirium paperback anthologies. Her paintings and assemblages have appeared in juried art shows and on the covers of past issues of Mythic Delirium. Beyond the Borders, her first solo exhibition, was a sculpture show full of modern monsters. It took place in October 2015 in the Liminal: Alternative Artspace gallery in Roanoke. You can see more of her works at her Facebook art page The Fairie Emporium.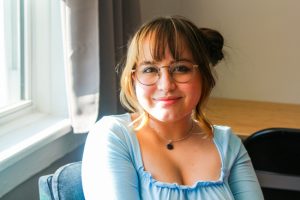 Sydney Macias (Assistant Editor, Mythic Delirium Books) is a practicing novel writer whose interests take form in metaphysical settings. Her work explores large casts of ambiguous characters dealing with themes of grief, identity and power. She is getting a Bachelor of Fine Arts with an Emphasis in Writing from the School of the Art Institute of Chicago. There, she published short stories and poetry with Mouth magazine. Sydney also worked with the global non-profit The Writer's Workout as a judge and editor for their six-week long Writer's Games competition. Follow her on Instagram at @_syd.mac_.

Staff Emeritus
Francesca Forrest
(
Assistant Copy Editor, Mythic Delirium
) has lived in the United States, England, and Japan and used to boast about having given birth to children on three continents. If she'd started earlier, she might have tried for births on the rest. Currently she works as a copy editor, spending as much of her free time writing as possible. She's had short stories and poems published both online and in print, along with one novel,
Pen Pal
. She also volunteers as a tutor in a medium-security jail. She loves knowing which plants in a landscape are edible and the folk names of wildflowers.
Christina Sng (Assistant Digitial Editor, Mythic Delirium) is a Rhysling-nominated poet, writer, and artist. Her work has received several Honorable Mentions in the Year's Best Fantasy and Horror. She is the author of three chapbooks, and her first full-length book of poetry, A Collection of Nightmares from Raw Dog Screaming Press, won the Bram Stoker Award in 2018. Find her online at http://christinasng.com.