Featured Poem • April 2017

The Confessions of Persephone
Jane Yolen

There is nothing in this world,
On the upside or down, 
More powerful than green.

Think of it—I picked flowers,
Small green messengers,
And opened a hole into hell.

My mother punished the countryside
For its role in my abduction,
Killing for a season anything green.

But the desert is not forever.
The little tendrils find the way
Up to the searching sun. 

Six seeds of a pomegranate,
Grown with its feet in dirt,
Brought my ravisher to his knees.

Think of it—he ruled the Under,
Beneath the fruit-killing willows,
Yet his crown was no shield against green.

Green is the true Mystery
Over which we have no power,
Not even you, Mother.

Not even me.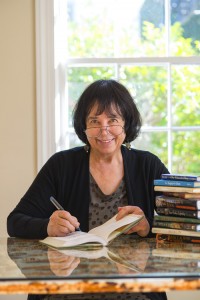 Jane Yolen is the author of over 350 books, including Owl Moon, The Devil's Arithmetic, Briar Rose, and How Do Dinosaurs Say Goodnight. The books range from rhymed picture books and baby board books, through middle grade fiction, poetry collections, nonfiction, and up to novels and story collections for young adults and adults. Her books and stories have won an assortment of awards—two Nebulas, a World Fantasy Award, a Caldecott Medal, three Mythopoeic awards, two Christopher Medals, a nomination for the National Book Award, the Jewish Book Award, among many others. She has also won the World Fantasy Award for Lifetime Achievement and the Science Fiction Poetry Association Grand Master Award, and in 2017, the Science Fiction and Fantasy Writers of America named her the 33rd Damon Knight Grand Master. She was the first woman to give St Andrews University's Andrew Lang lecture in Scotland and the first writer to win the Arts & Humanities Award from New England Public Radio. Six colleges and universities have given her honorary doctorates.
Regarding this poem, Jane sent me a note titled "Confessions of Jane Confessing About 'The Confessions of Persephone,'" and this is what it said: "It was a summer of 2014, and I was in Scotland. Early morning, the birds caroling wildly outside my bedroom window. I was searching for inspiration for my poem-a-day subscribers, and was reading—among other things, Katherine Langrish's online fairy tale blog 'Seven Miles of Steel Thistles.' That week it was about Persephone. Room, birdsong, blog faded as I started writing the poem. Later, I would walk out in my green green garden working on the first of many revisions."


If you've enjoyed what you've read, please consider pitching in to keep us going. Your donation goes toward future content.