Featured Poem • December 2017

Lotus Moon
Mary Soon Lee

     Over hill, over river,
     across the wide steppe
     far came the wild horses,
     unbroken, untamed,
     to meet the scarred king.

On the sixth night
of their return to the horse country,
Atun, king's guard,
followed King Xau onto the hill
where the wild horses waited.

A hundred horses or more,
among them a thin gray mare
who came right up to Atun,
just as she had done
during his last night duty.

And Atun wondered then
if the gray mare had chosen him,
but said nothing, his guess lying
too close to his heart's wish
for him to trust it.

Next night, the mare sought Atun
and he spoke to her softly,
and he marked, too, how a black horse
went over to Shuen and nickered.
So Atun told the king his thoughts.

On the eighth night,
the night when the Lotus Moon
rode round and full in the summer sky,
all nine guards accompanied
King Xau to the wild horses.

And the gray mare went to Atun
and breathed warm in his ear,
and the black horse went to Shuen,
and a horse to each other guard,
and a colt with a white blaze to the king.

And King Xau looked at his guards
and his guards looked at him,
and each man set his hands
on the horse that had come to him
and jumped up onto its back.

     Rode then the scarred king
     and the nine guards
     who shielded him,
     closer than brothers,
     raced through the grass—

     Raced reckless and giddy,
     grinning like boys,
     the wind on their bare arms,
     the horses beneath them
     stretched into a gallop.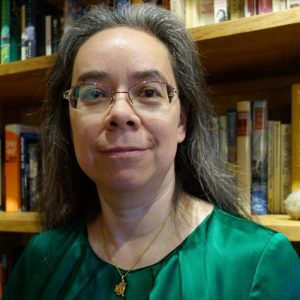 Mary Soon Lee was born and raised in London, but now lives in Pittsburgh. She recently had 119 haiku published in Science, one for each element in the periodic table. Her poetry has also appeared in American Scholar, Fantasy & Science Fiction, and the Wall Street Journal. She has won the Rhysling Award and the Elgin Award for her speculative poetry, and has an antiquated website at http://www.marysoonlee.com.
She writes that "Lotus Moon" is "part of an epic fantasy about King Xau, told in over three hundred poems. King Xau's guards are an important part of the story, and this episode is one of the few times that they and the king are reckless rather than dutiful. I wanted them to have a moment of wildness and joy together. A dozen more poems from the epic may be read at http://www.thesignofthedragon.com."


If you've enjoyed what you've read, please consider pitching in to keep us going. Your donation goes toward future content.