Featured Poem • July 2017

Marrying the Bear
Jane Yolen

When they found me,
with my broken basket,
I saw their true nature,
wanting it for my own.
That is how I married 
the prince of bears
bore him two sons,
each with his dark hair
and long nose.
They are a powerful people
dreaming long and true
in the stretch of winter.
With my new basket
I bring them many berries,
teach them to start fire, 
roast turkeys, cook jam.
I would have lived happily
with my husband forever,
but my brothers found us,
burned his bones.
The ash will make more life.
But not in me. 
Never again in me.
I miss his arms 
strong, hairy, comforting.
Miss his small grunts
when we lay in the dark together.
There is a dirge here,
but I shall sing it in a major key
so all women who would marry bears
can dance.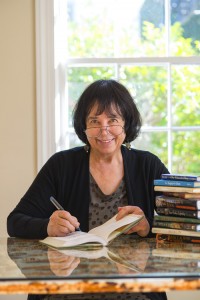 Jane Yolen is the author of over 360 books, including Owl Moon, The Devil's Arithmetic, Briar Rose, and How Do Dinosaurs Say Goodnight. The books range from rhymed picture books and baby board books, through middle grade fiction, poetry collections, nonfiction, and up to novels and story collections for young adults and adults. Her books and stories have won an assortment of awards—two Nebulas, a World Fantasy Award, a Caldecott Medal, three Mythopoeic awards, two Christopher Medals, a nomination for the National Book Award, the Jewish Book Award, among many others. She has also won the World Fantasy Award for Lifetime Achievement and the Science Fiction Poetry Association Grand Master Award, and in 2017, the Science Fiction and Fantasy Writers of America named her the 33rd Damon Knight Grand Master. She was the first woman to give St Andrews University's Andrew Lang lecture in Scotland and the first writer to win the Arts & Humanities Award from New England Public Radio. Six colleges and universities have given her honorary doctorates. A new collection of fantasy short stories called The Emerald Circus is coming out from Tachyon Publications in fall 2017.
She writes that "Marrying the Bear" was "begun when Terri Windling mentioned in her blog Myth and Moor a North American Nishga'a tale about a woman who marries a bear. I quickly looked it up and found it very moving. Especially because I have born two sons (and a daughter), and my husband is 11 years dead after a 44-year marriage. Sometimes stories and poems we write take us to those places which we thought had healed and had only just scabbed over."


If you've enjoyed what you've read, please consider pitching in to keep us going. Your donation goes toward future content.