Featured Poem • June 2017

Grave Robber
Jane Yolen

"Grief is an absolute thief, who robs with delight 	
and without remorse." —Rae Sedgwick
 
So there she was, sitting on the edge of his grave— 
the one in my head, not the eight places
his cremains have been strewn—shovel in her hand. 

Robbing graves again, I note. She does that, without remorse.  
You think you've found the sacred, somewhere quiet to go,  
but she's there before you. 

You should be done with this by now. Her tone telling me 
she thinks otherwise. She slams down the shovel head down 
deep into the black grave dirt. 

I'm sure there will be no bones, no grinning skull;  
he is ash if he is anything. But this is a dream, so who knows? 
I saw him newly dead, I don't need to see more. 

She turns the earth. I'm unable to look away. A hand inches up 
out of the soil, a woman's hand, small, slim, fine-boned,
not his. My mother's, perhaps.  

Grief grins at me, pulls the shovel out of the ground, 
walks into a mist, flowers springing up where she steps. 
She is laughing out loud, a sound like cicadas. 

I think: That's it. I'm finally done with mourning.  
I lie to myself.
But at least I know I lie.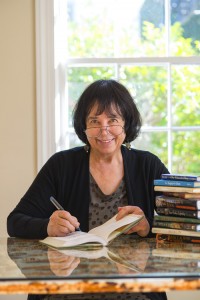 Jane Yolen is the author of over 350 books, including Owl Moon, The Devil's Arithmetic, Briar Rose, and How Do Dinosaurs Say Goodnight. The books range from rhymed picture books and baby board books, through middle grade fiction, poetry collections, nonfiction, and up to novels and story collections for young adults and adults. Her books and stories have won an assortment of awards—two Nebulas, a World Fantasy Award, a Caldecott Medal, three Mythopoeic awards, two Christopher Medals, a nomination for the National Book Award, the Jewish Book Award, among many others. She has also won the World Fantasy Award for Lifetime Achievement and the Science Fiction Poetry Association Grand Master Award, and in 2017, the Science Fiction and Fantasy Writers of America named her the 33rd Damon Knight Grand Master. She was the first woman to give St Andrews University's Andrew Lang lecture in Scotland and the first writer to win the Arts & Humanities Award from New England Public Radio. Six colleges and universities have given her honorary doctorates.
About this poem, she shared, "A friend (and ex-writing student) of mine, who is a therapist, knew that March was a difficult month for me. I mourned the death of my husband, gone seven years at that point. She sent me a note with the epigraph about grief being an absolute thief . . . and it started me off on the poem. I write a poem a day and send early versions to a subscription list, and 'Grave Robber' (in its earlier version) was one of them."


If you've enjoyed what you've read, please consider pitching in to keep us going. Your donation goes toward future content.