Featured Poem • March 2015

Love Song
John Philip Johnson

Delicate as the teal of a sunrise
refracted in the mist 
of the morning bird's blood
on the far hills of Incaldrion

Delicate as a youth's first 
acid wash, the sparkling orange 
of fire burning off the layers 
to the wet sheen that rests beneath

Delicate as the moonsingers's last note  
after all has been sung, trailing off 
as though being eaten by the silence, 
the air-bleeding, pounding silence

Delicate as the appetite 
that wakes at dawn, that takes wing
and gathers itself like a fist
into the fullness of day

As delicately, so delicately,
shall your blood and thoughts enter mine,
before the floods of confusion
and the heartwork of dying, 
before we enter the drowning pools
and are engulfed in their utter calm.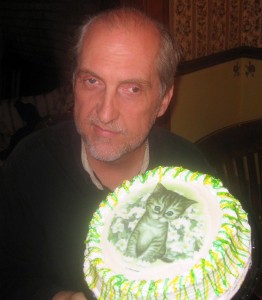 John Philip Johnson has just come out with a collection of graphic poetry, Stairs Appear in a Hole Outside of Town, illustrated by Marvel Comics legend Bob Hall and others. It's a comic book, and a sample can be found at http://www.rattle.com/poetry/tag/graphic-poetry/. He has work recently published or forthcoming from Rattle, Strange Horizons, Apex Magazine, Niteblade, Daily Science Fiction and Ted Kooser's newspaper column, "American Life in Poetry." He lives in Lincoln, Nebraska, with his wife and three or four of their five children. John, and the comic book, can be reached through his website, www.johnphilipjohnson.com.


If you've enjoyed what you've read, please consider pitching in to keep us going. Your donation goes toward future content.