Featured Poem • May 2016

One-Winged
Sandi Leibowitz

So what if I'm unfinished,
like the draft a poet thrusts inside his desk
when the rhymes won't come?
You think I weep in secret 
for my missing arm?
I wear my one wing proudly,
never seek concealment in a baggy sleeve.

I will not call it curse.
Air was my element.
I breathed blue.

Our sister's suffering
enslaved us,
kept us circling above the castle
as if a silver chain pulled taut. 

It took a leap of love
—no, call it fall—
to settle earthwards.

Claimed and tamed, 
shut up whole in human skin,
my brothers forget those wilder realms,
lives bound to rule and reign,
clod and clay.
Every dawn I ascend the tower,
remove my shirt to feel the flutter
of feathers against heartbeat
before I unfold that last wing wide,
let the currents lift it, almost
freeing me from gravity.
It takes all I have 
to resist wind's seduction.

Blame my sister?
How can you blame love that deep?
But I have learned 
what costs I want to pay for love,
or to exact.

The woman who'll love me
will never need to hush 
or burn,
her fingers will not bleed for me.
She will not tether me with sacrifice.

She too will cherish this wing,
knowing it has brushed the clouds,
certain I will always fly home,
hoping I will sing to her of sky.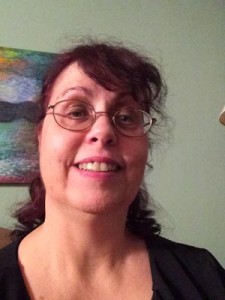 Sandi Leibowitz is a classical singer, New Yorker, and school librarian. Her speculative poetry and fiction appear in Liminality, Kaleidotrope, Luna Station Quarterly, and other magazines and anthologies. She has been nominated for the Rhysling, Dwarf Star, Pushcart Prize, and Best of the Net. She has traveled in the footsteps of medieval pilgrims from southern France to Santiago de Compostela, ridden in a hot-air balloon over the Rio Grande, and visited with Arthur in Avalon. Feel free to drop in for some virtual coffee at her website, In the Raven's Wood, at sandileibowitz.com.
About her poem, she writes: "The fairy tale 'The Six Swans' is obviously the inspiration for 'One-Winged.' I always wondered what that last brother felt like, retaining part of the curse while the other brothers fully regained their human forms. I've read modern interpretations in which he's sad or angry or both, and shunned by society. But first, I, like most lovers of fantasy, am attracted to rather than repelled by those who are different. Second, I love birds and have always longed to fly. In fact, I have an early childhood memory of flying, right outside my apartment building. I didn't go very high (just a few inches off the ground) or far (just a few feet), and it was hard work pumping through the air, but I flew. (I also remember laying an egg on the living room couch.) Hopefully we all meet people who not only accept our flaws but also rejoice in the things that make us unique."


If you've enjoyed what you've read, please consider pitching in to keep us going. Your donation goes toward future content.