Featured Poem • September 2017

Masques and Mayhem
Jennifer Crow

I.

We bow at the twitch of strings,
a marionette web of lives tangled
by passion, knit together. Unwind me,
slip the constraints of polite society,
hide your face and we will build
a secret between us, lovers' knot 
done and undone again before sunrise.

II.

You and I have danced before,
our beaked masks knocking together,
making dull papier-mâché thuds like desiccated
hearts dropped on the ballroom parquet.
When you weep, kohl and paint trickle
from beneath the gilt-rimmed edges
of your false face. Do not pretend
you have a soul now—I only touched you
because your emptiness called to mine.

III.

You changed masks and danced with me
again, a quiet scandal reflecting
across the gleaming boards. First a raven,
glossy black and sprightly, bowing to maiden
and crone alike, then a peacock 
strutting from partner to partner
with your beak held high. You think yourself
secret, safe, but my eyes see deeper
than your feathers. Whatever trickster rides you,
the godling seeps from your skin
and lights your eyes. Only a fool
would take a man like that to her bed.
But I have never been wise.

IV.

I watch her watch him. She leans
into his presence, a blossom bending
to the sun that will burn it to dust,
or perhaps a songbird lured to the hunter's
hand—poetry fails me as I drift
the outskirts of the ball, shrouded
in a plain gray mask, a dove gray suit.
How can I hope to draw her eye, when
all that glitters in me has vanished
beneath years of shabby hopes
and misbegotten dreams? The hectic light
in her tells me she will not live to gain wisdom.

V.

A shadow at the edges of the room, a cloud
that leaches the joy out of each couple he passes,
his dour countenance a mockery of our revels.
I move to cast him out, but something stays me—
a whisper of sympathy, or perhaps
fear. He wears mourning gray like a shroud,
but more than that, his grief boils up 
from his soul, a storm brewing in the marrow.
We meet, our respective orbits crossing, and he dares
mock me with a smile, bared blade of teeth
and grim humor. Neither of us
stands in the circle of love's safety, 
neither of us ready to admit 
we have gambled with life 
and lost. I gesture toward the door, 
but he mistakes it for an invitation
and captures my fingers.

VI.

Our host finds an unwilling suitor
between the punch bowl and the band.
Behind fans, matrons with fox-sharp eyes
murmur, for they own our fates, winding 
and stitching secrets by day, and winnowing
lives by night. Their coven dresses
in bright silks, and jewels glitter
at their throats and in their hair,
but in their gaze, only the darkness 
of a sealed tomb, and the copper scent
of blood. They feast without leaving their seats,
and I wait, fingering the silver blade in my sleeve.

VII.

As we wind handkerchiefs around our fingers,
so their lives spin around us, and as we trap
the fragile wings of our fans, so they turn
and turn, and cannot break free. Each dance
makes up part of the pattern, each curtsey
or cut weaves into a tapestry of evils.
We remember dancing, but now we watch
as the ladies always have, and summon
our amusements like a demon's brood.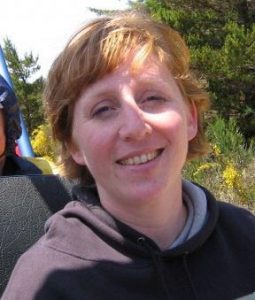 Shy and nocturnal, Jennifer Crow has rarely been photographed in the wild, but it's rumored that she lives near a waterfall in western New York. You can find her poetry on several websites, including Goblin Fruit, Uncanny, Mythic Delirium, Eye to the Telescope, and Mithila Review. She's always happy to connect with readers on her Facebook author page or on Twitter @writerjencrow.
About this poem, she wrote: "I love writing poetry for prompts that friends give me. Quite some time ago Claire Cooney asked for a poem about masks. I thought about a masquerade ball, the people who might attend, and the way their desires and ambitions might intersect and clash, and that's where 'Masques and Mayhem' came together. I wouldn't necessarily want to go to this party, but it was fun to imagine."


If you've enjoyed what you've read, please consider pitching in to keep us going. Your donation goes toward future content.