Featured Poem II • February 2017

Feisty Girls
Jane Yolen

Baba Yaga prefers them bright, asking questions,
challenging her, turning their backs.
She likes the ones who stick out their tongues,
laugh at death threats, use foul language, never beg.
 
She wants them to sweep the hut without whining,
empty the compost bucket without complaint,
cook the soup, put a hand on the pestle,
learn to steer.
 
If they can sing the Volga Boatmen song
and dance the Kazachok without falling over,
recite Pushkin from memory,
know all the patronymics for Rasputin, 
that's a plus.
 
Boys, on the other hand, she devours whole,
spitting out the little finger bones.
Even if they can dance and sing.
Even then.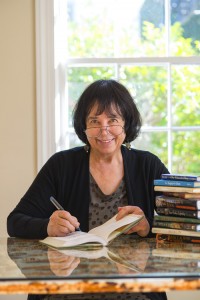 Jane Yolen is the author of over 350 books, including Owl Moon, The Devil's Arithmetic, Briar Rose, and How Do Dinosaurs Say Goodnight. The books range from rhymed picture books and baby board books, through middle grade fiction, poetry collections, nonfiction, and up to novels and story collections for young adults and adults. Her books and stories have won an assortment of awards—two Nebulas, a World Fantasy Award, a Caldecott Medal, three Mythopoeic awards, two Christopher Medals, a nomination for the National Book Award, the Jewish Book Award, among many others. She is also the winner of the World Fantasy Award for Lifetime Achievement and the Science Fiction Poetry Association Grand Master Award. She was the first woman to give the St Andrews University's Andrew Lang lecture in Scotland, first writer to win the Arts & Humanities Award from New England Public Radio. Six colleges and universities have given her honorary doctorates.
About "Feisty Girls," she writes, "This is one of the poems I sent out to 700+ subscribers in an earlier form. (To become a subscriber, click here.) It is part of a verse novel, Finding Baba Yaga, that is not yet sold. Baba Yaga—the iconic Russian folkloric witch—is my culture hero. She loves feisty girls and the Berlin/Yolen women have always fit that bill."


If you've enjoyed what you've read, please consider pitching in to keep us going. Your donation goes toward future content.