Featured Poem II • October 2016

To the Ends of the Earth
Jeannine Hall Gailey

Here I am standing on the end as far as a year of traveling by foot, by rowboat, by car after car abandoned on the side of the road would take me.
I've been sending you postcards in mailboxes that will never be emptied knowing you will never read them never see them never see me again.
I'm looking out into blankness the black water the sky quiet silent oppressive I am leaning over the edge like these trees trunks blackened by fire or blight their roots barely gripping the land any more.
Would you follow me to the ends of the earth? I've found hollows, libraries to sleep in, slipped into abandoned museums to escape the cold, lay my face on marble floors. Walked through shoes and worn out blankets, eaten from supply closets, lit candles in cabins, found solar flashlights in the dark. I've learned maps of matches and bottled water, iodine and Cipro.
I've packed so much into these final days and you never found me. You may not even be here anymore, just one more of my memories retreating, fond and warm, like Christmas, like movie theatre popcorn, like the spinning lights above a dance floor full of bodies flailing in celebration, in preparation.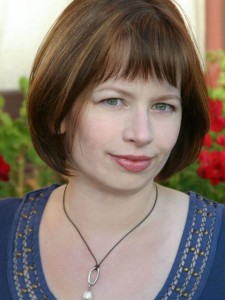 Jeannine Hall Gailey served as the second poet laureate of Redmond, Washington. She is the author of five books of poetry: Becoming the Villainess, She Returns to the Floating World, Unexplained Fevers, The Robot Scientist's Daughter and Field Guide to the End of the World, which won the 2015 Moon City Press Book Prize for Poetry. Her poems have been featured on NPR's The Writer's Almanac and Verse Daily, as well as in collections like The Best Horror of the Year and The Year's Best Fantasy and Horror. Her website is webbish6.com. You can follow her on Twitter at @webbish6.
Both her poems in this issue come from the pages of her newest collection, Field Guide to the End of the World. She writes, "'To the Ends of the Earth' is the final poem in a series of 'Post-Apocalypse Postcard' poems in the book, about the main character's journey trying to find her loved one in a post-apocalyptic landscape. It's a sad poem, as she's coming to terms with the fact that she may, in fact, be the last woman on earth."


If you've enjoyed what you've read, please consider pitching in to keep us going. Your donation goes toward future content.