Featured Poem II • September 2017

Night Does Not
Jane Yolen

"Night does not show things, 
it suggests them." 
                   —Brassaï 


Night does not lumen
it illuminates
with shadows.

Night does not lighten,
Like lichen
it clings to your soul.

Night does not linger
any longer
than you have courage.

Night has no languor,
nor language
not your own.

Night does nothing
but pass the time
of day.
 
You do all the rest, 
bringing darkness 
into the heart's cave.

Night does not.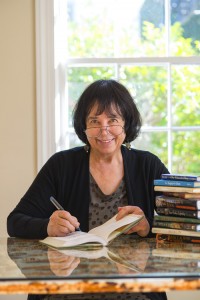 Jane Yolen is the author of over 360 books, including Owl Moon, The Devil's Arithmetic, Briar Rose, and How Do Dinosaurs Say Goodnight. The books range from rhymed picture books and baby board books, through middle grade fiction, poetry collections, nonfiction, and up to novels and story collections for young adults and adults. Her books and stories have won an assortment of awards—two Nebulas, a World Fantasy Award, a Caldecott Medal, three Mythopoeic awards, two Christopher Medals, a nomination for the National Book Award, the Jewish Book Award, among many others. She has also won the World Fantasy Award for Lifetime Achievement and the Science Fiction Poetry Association Grand Master Award, and in 2017, the Science Fiction and Fantasy Writers of America named her the 33rd Damon Knight Grand Master. She was the first woman to give St Andrews University's Andrew Lang lecture in Scotland and the first writer to win the Arts & Humanities Award from New England Public Radio. Six colleges and universities have given her honorary doctorates. A new collection of fantasy short stories called The Emerald Circus is coming out from Tachyon Publications in fall 2017.
Regarding "Night Does Not," she writes, "Again Terri Windling in her blog became my muse, this time quoting a Hungarian French poet-photographer I didn't know, famous for his photographs of Parisian nightlife in the 1930s. I played a lot with words in this poem, both alliteratively and literally. It galloped ahead and I ran behind shouting, 'Wait for me. . . .'"


If you've enjoyed what you've read, please consider pitching in to keep us going. Your donation goes toward future content.