Featured Poem II • August 2013

Rhythm of Hoof and Cry
S. Brackett Robertson
She didn't worry at the first appearance of the horns,
small buds, nearly flush with his skull.
She assumed all men must grow them, when they're thirty
She'd forgotten he was human.
He was less certain about them, peaking above the crown of his head
but he was in her country now,
living behind the wall of thorns.
He'd been cut and bruised when he crossed, but that was a year ago.
He didn't tell her of his dreams, of the cold air and the restless bodies
and the urge to flee
he didn't tell her about the hounds.
He was afraid, when he awoke, but he told himself these things are usual here
Once they grew longer, started to show at the top of his shadow, she wondered,
quietly, how he was adjusting. The air was different here, and the water
he'd never drunk it before for fear of entrapment.
He said he was still, said he was calm, but he crossed the brambles
She'd seen his cuts. She'd seen the fear in his eyes when he awoke.
She heard the hounds when he rose from his bed,
moonlight gleaming on his horns, now reaching curved to the moon
when he looked towards her, it was with emptied eyes,
he startled when she reached towards him, and fled.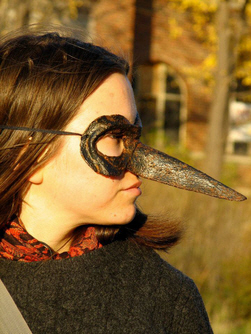 S. Brackett Robertson is often found up a tree. Her work has previously appeared in Goblin Fruit, Mythic Delirium, and is forthcoming in Inkscrawl. She frequents museums and would like to visit more ancient cities.
About "Rhythm of Hoof and Cry," she says, "This poem grew from the image of a pair of horns budding from someone's forehead and it lengthened as the horns did."


If you've enjoyed what you've read, please consider pitching in to keep us going. Your donation goes toward future content.