The CLOCKWORK PHOENIX 4 special edition goes there & back again
When we ran the Kickstarter in 2012 that made it possible to bring the Clockwork Phoenix series back from the ashes, we offered, for $1,000, to create a special edition of the book signed by all the contributors. We had one taker, and this past Monday that single book was handed to its rightful owner.

As my final Clockwork Phoenix 4 post, of this week, here is that special book's eight month odyssey, with pictures. #SFWApro

In April, I created the single edition for our special backer, and Anita and I presented it to him at a local restaurant here in Roanoke. (On the cover it reads, "A Special Clockwork Phoenix 4 Kickstarter exclusive / Special Signed Edition / One of One.") I told him I wanted him to see it and handle it before we started mailing it out to the writers, because I couldn't guarantee he'd ever see it again.

Here it is at the restaurant, in the special case Anita made for it to travel in.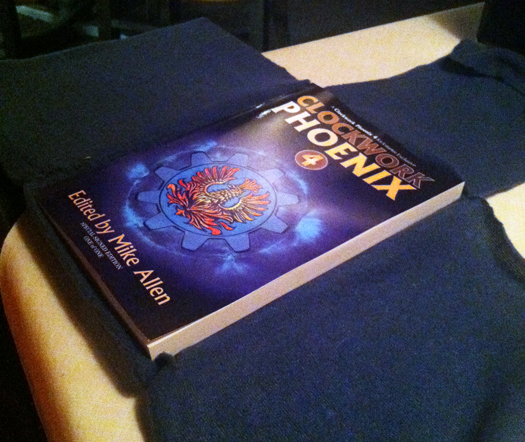 And here I am signing it.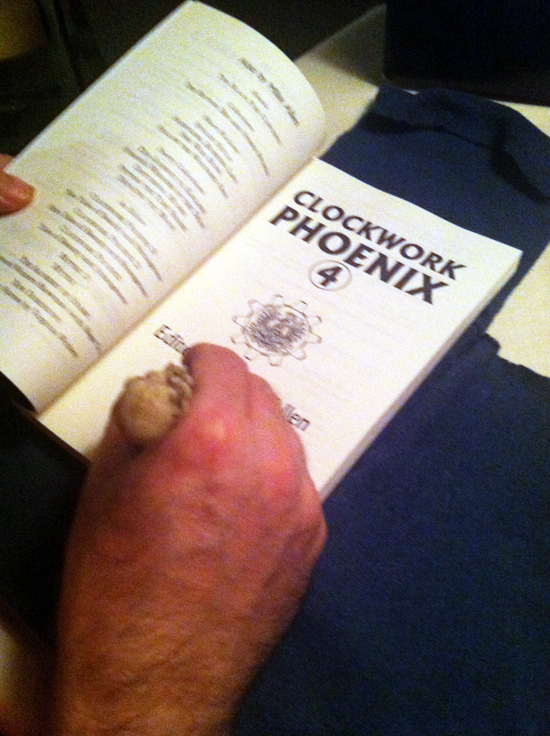 I asked every writer to sign the dotted line beside their story in the table of contents; sign and date their stories in the book beside the title, and also write down where they were when they signed it, and also sign the blank back page. Anita also signed the back page.
Anita figured out an efficient plan for getting all the signatures. We knew that in July seven of the eighteen contributors would be at ReaderCon, so we decided for the first round to ship it priority mail, postage prepaid, to all the American writers who wouldn't be at the convention in Boston.
So for the first round, from May to June, the book visited Marie Brennan, Alisa Alering, Richard Parks, Cat Rambo, Patricia Russo, back to me, then Marie Brennan again for some unfinished business.
Here's the book on Alisa Alering's desk…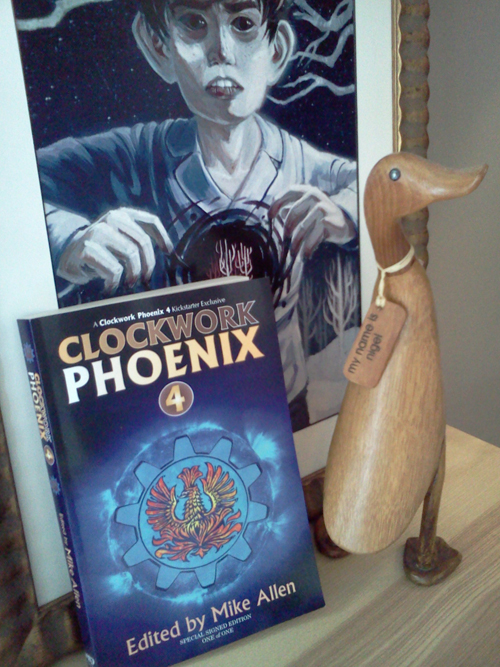 …and here it is in Marie Brennan's classroom.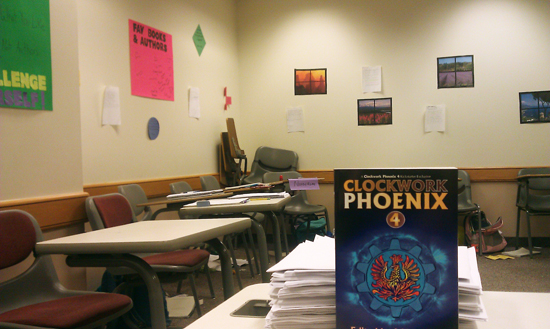 Then it came back to me again. Anita and I met with our backer and showed him the accumulating signatures. And once again, I told him that I wanted to be sure he got to handle it, because I couldn't guarantee its return.
In July, Anita and I took the special edition with us to ReaderCon. First we stopped by contributor Nicole Kornher-Stace's house in New York State — to take her with us — and she signed it while we were at her place.
Then, at ReaderCon in Burlington, Mass., during the official
Clockwork Phoenix 4
launch reading —
which you can see and here more about by clicking this link
— Kenneth Schneyer, Yves Menard, Shira Lipkin, Barbara Krasnoff, Gemma Files and A.C. Wise all added their signatures. In this photo, the special edition, wrapped in its case, is beside Ken at the far end of the table.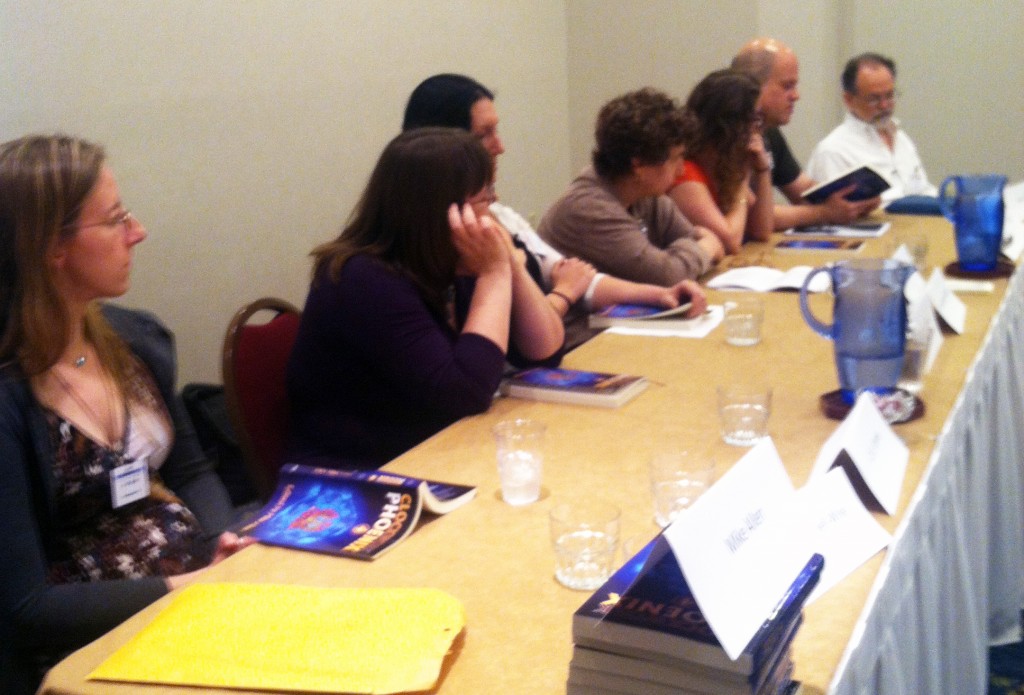 Here's the back page of the book after all that.
Then, Yves bravely took the book, special travel case and all, back to Montreal with him, and delivered it to Camille Alexa. Here it is at her place.
And then the international mail journey began, with Camille sending the book to Yukimi Ogawa in Tokyo. Yukimi slipped a traffic safety amulet between the book's pages to help it travel safely. She also shared sushi with it.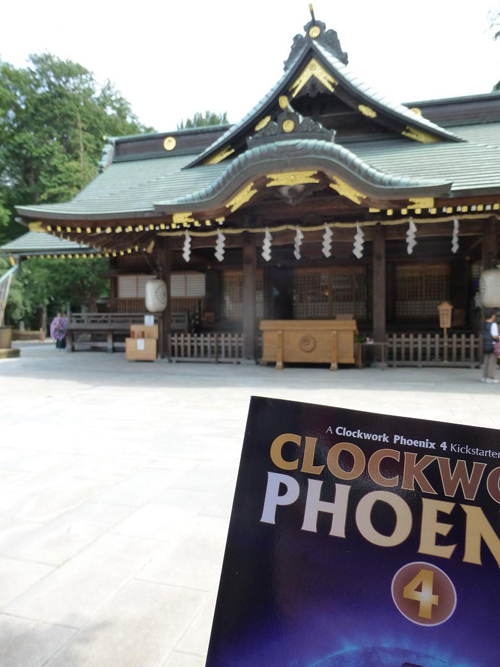 The book reached Benjanun Sriduangkaew in Hong Kong in late August.
Then it went to Ian McHugh in Australia (arrived in early September,) and then to Corrine Duyvis in Amsterdam (late September,) who took it to a poffertjes stand.
Finally the book went to visit Tanith Lee in England, and at last, in October, made it back to me, signed by everyone.
And now here it in the hands of the person it belongs to, given over dinner at the same restaurant where it all began.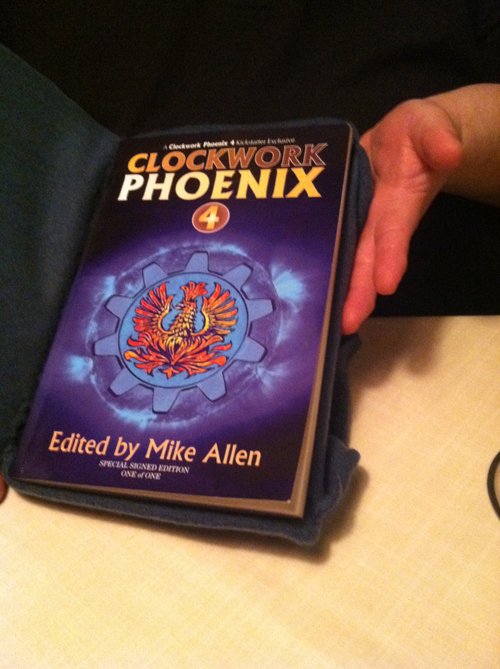 (Whew!)