Novelist Tiffany Trent praises BONE SWANS by C.S.E. Cooney + Con or Bust auction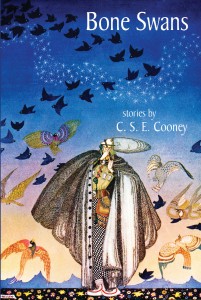 Tiffany Trent, author of the young adult novels The Unnaturalists and The Tinker King, has added to the accumulating accolades for C.S.E. Cooney's debut collection Bone Swans:

C.S.E. Cooney's Bone Swans is like visiting a literary Ys. Coaxed by her deft hand, lands and people long lost to memory resurface, breaking through the hearts of readers with the force of a gentle tsunami. Once that wave has broken over you, you are never the same.

We've got an advance reading copy of Bone Swans available for bid in the Con or Bust auction — you could win a copy and help a very worthy cause at the same time! An initiative of the Carl Brandon Society, Con or Bust raises money to help fans of color go to SFF cons. I hope you'll check it out.

We'll officially launch Claire Cooney's book at Readercon in July.

#SFWApro