A starred review in PUBLISHERS WEEKLY for BONE SWANS by C.S.E. Cooney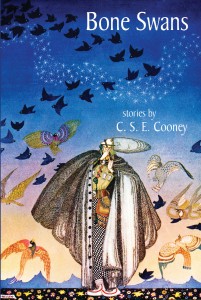 The dust is starting to settle from our successful Kickstarter to launch Clockwork Phoenix 5. What an intense May.

During that frantic time a wonderful thing happened that I want to make sure folks didn't miss. The first official review appeared of C.S.E. Cooney's debut collection of fantasy stories, Bone Swans, and it was a starred review from Publishers Weekly!

Cooney's brilliantly executed collection of five stories is a delicious stew of science fiction, horror, and fantasy, marked by unforgettable characters who plumb the depths of pathos and triumph. … Cooney's magical prose elicits laughter even as gruesome scenes induce shudders, and her expert pacing breathlessly buoys the reader to each story's conclusion. All of these stories could easily serve as the foundation for novels while also working beautifully at their current length. These well-crafted narratives defiantly refuse to fade from memory long after the last word has been read.

We're so proud of Claire, and proud to be the ones presenting this book to the world.

We'll debut it officially at Readercon (July 9-12 in Boston) but if you don't want to wait that long to get a copy, here's where you can preorder it:


Paperback: Barnes & Noble | Amazon UK | Amazon CA | Amazon DE
Ebook: Amazon | Amazon UK | Amazon CA | Amazon DE
#SFWApro