Three new reviews for BONE SWANS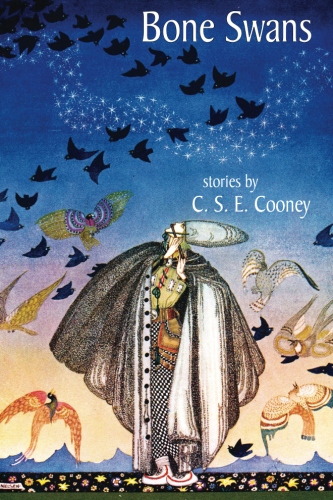 We're one day out from the official release of Bone Swans by C.S.E. Cooney (though, truth be told, it's already available at Amazon, Nook, iTunes, Kobo and a bunch of other places).

The book has already accumulated a number of accolades. However, in the short, small scale-history of Mythic Delirium Books, I've never seen anything like what happened July 1, when three enthusiastic reviews appeared on the same day in different venues:

• From Tor.com short fiction reviewer Brit Mandelo:

A fascinating mashup between the tropes and resonances of the mythic tale with the sensibilities of contemporary action-oriented fantasy: simultaneously lighthearted and serious, full of consequences but also ubiquitous happy endings. … "The Bone Swans of Amandale" was perhaps my personal favorite. It's a riff on the Pied Piper story, told by a shapeshifting rat who's in love with a shapeshifting Swan Princess. … this is an intriguing and readable collection—one that is, certainly, doing something rather specific and unique.

• From Locus short fiction reviewer Rich Horton:

All of the stories are very good, and one is new to the collection: "The Bone Swans of Amandale" … It's one of a couple in the book that takes as its basis a familiar fairy tale, but which changes it utterly.

(Rich included "The Bone Swans of Amandale" on his list of recommended stories for July.)

• From Library Journal science fiction/fantasy reviewer Megan McArdle:

In five beautifully crafted stories, Cooney (Jack O' the Hills) builds imaginary worlds full of flying carpets, fairy-tale characters, and children confronted with a postapocalyptic Earth. In addition, each tale packs in enough plot for a novel, with adventurous characters who brim with wit. … Short stories, especially in the speculative fiction arena, often feature a clever idea and a punchy delivery. It's usually not where you find vivid worldbuilding or immersive storytelling, but this gorgeous new collection reveals that both are possible in the short form.

An especial heads-up for SFWA members: "The Bone Swans of Amandale" is now available in the members-only novella forum for folks to read.

#SFWApro