Book day is here: BONE SWANS by C.S.E. Cooney is live!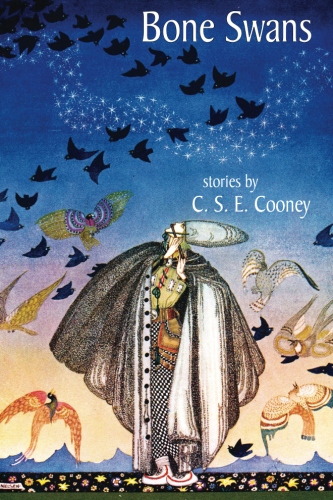 Today is the official launch date for Bone Swans, the debut collection of short fiction from C.S.E. Cooney. We're really excited and proud to be bringing this one out — a recent review at Tor.com described Claire's book as "a fascinating mashup between the tropes and resonances of the mythic tale with the sensibilities of contemporary action-oriented fantasy" and the reviewer further noted that she could see why, "of all the small presses to pick up this book, it was Mythic Delirium; has a nice confluence." So on point!

So here's what's in Bone Swans:

• Introducing C. S. E. Cooney by Gene Wolfe
• Life on the Sun
• The Bone Swans of Amandale
• Martyr's Gem
• How the Milkmaid Struck a Bargain with the Crooked One
• The Big Bah-Ha

Here's all the places that you can get Bone Swans:

And here's a little extra to entice you. There isn't a book trailer for Bone Swans, but there have been some wonderful videos made for a couple of the novellas in the book. Check out this amazing animated sequence that goes with Cooney's tale of an island-bound societry, "Martyr's Gem":


And here's a book trailer created for her post-apocalyptic clown-town nightmare "The Big Bah-Ha" before its first publication.
Our thanks to Shveta Thakrar for her thorough copy editor's eye, and to Elizabeth Campbell, Nicole Kornher-Stace, Sita Aluna and Christina Sng for their help in making this book possible (and keeping it on schedule) and to all the authors who voiced their early enthusiasm for the book.
Last but not least, we're debuting the book formally at
Readercon
! We'll hold the official launch party Saturday night (there will be posters), and Claire will have a reading at 10:30 a.m. Sunday morning. Copies will be available at the
Small Beer Press
table. Hope to see you there!
#SFWApro