Announcing the official CLOCKWORK PHOENIX 5 table of contents
I'm proud to at last officially announce the table of contents for Clockwork Phoenix 5, the latest installment in the Mythic Delirium Books anthology series devoted to genre-blurring beautiful and strange stories. With twenty tales by twenty-one authors, Clockwork Phoenix 5 is the largest volume in the series to date. The generosity of the genre community breathed life into this latest incarnation, crowdfunding the project through a successful $12,000 Kickstarter campaign.

Here are the stories, in the order selected by assistant editor Anita Allen:

"The Wind at His Back" by Jason Kimble
"The Fall Shall Further the Flight in Me" by Rachael K. Jones
"The Perfect Happy Family" by Patricia Russo
"The Mirror-City" by Marie Brennan
"The Finch's Wedding and the Hive That Sings" by Benjanun Sriduangkaew
"Squeeze" by Rob Cameron
"A Guide to Birds by Song (After Death)" by A.C. Wise
"The Sorcerer of Etah" by Gray Rinehart
"The Prime Importance of a Happy Number" by Sam Fleming
"Social Visiting" by Sunil Patel
"The Book of May" by C.S.E. Cooney and Carlos Hernandez
"The Tiger's Silent Roar" by Holly Heisey
"Sabbath Wine" by Barbara Krasnoff
"The Trinitite Golem" by Sonya Taaffe
"Two Bright Venuses" by Alex Dally MacFarlane
"By Thread of Night and Starlight Needle" by Shveta Thakrar
"The Games We Play" by Cassandra Khaw
"The Road, and the Valley, and the Beasts" by Keffy R.M. Kehrli
"Innumerable Glimmering Lights" by Rich Larson
"The Souls of Horses" by Beth Cato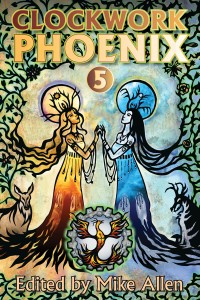 Our stunning cover art is by Paula Arwen Owen.

You can listen to editor Mike Allen discussing the Clockwork Phoenix 5 stories with Scott Nicolay in the "News of the Weird" segment of the Dec. 3, 2015, Outer Dark podcast.

Stories from previous volumes have been finalists for the Nebula Award, the Shirley Jackson Award, the Theodore Sturgeon Award, the Aurealis Award, the WSFA Small Press Award, and selected for inclusion in numerous Year's Best anthologies. Clockwork Phoenix 5 will be available for sale worldwide on April 5, 2016.

#SFWApro