Mythic Delirium Books award eligibility post; C.S.E. Cooney BONE SWANS novella available now online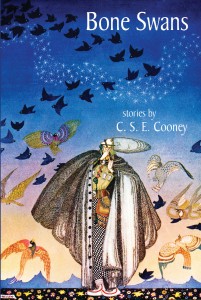 I'm a bit behind everyone else in posting something like this, to which I apologize to the authors, who all deserve as much attention as possible for their terrific work. I have a reasonable excuse, though, as for the past three and a half months I've been preoccupied with finalizing all the e-book and paperback editions of books that I owed the backers of the Clockwork Phoenix 5 Kickstarter. There's still plenty more to be done, but I've reached a point where I can tend to other tasks for a bit.
In 2015, Mythic Delirium Books published C. S. E. Cooney's first ever collection of short fiction, Bone Swans: Stories. For any award that considers "best collection," Bone Swans is eligible.
Bone Swans contained five novellas, four reprints and one original. That original novella, "The Bone Swans of Amandale," is eligible for "best novella" and "best long fiction" consideration.
As of this week, we've made "The Bone Swans of Amandale" free to read online. Check it out here:
Our magazine, Mythic Delirium, published twelve original short stories last year, all of which would be eligible for any award that considers short stories published in 2015. They are:
We also published 25 poems in our magazine, and we had an additional special feature, a whole album of folk tale-based song lyrics from C. S. E. Cooney that tied into her Brimstone Rhine Indiegogo campaign. I'm going to attempt to break them down for Rhysling Award consideration by category.
Long poem:
Short poem:
The Headless Bride song cycle, all lyrics by C. S. E. Cooney: "O Loathly Ones," "Can of Worms," "Lavender's Darling," "Mockingbird and Kestrel Girl," "Chevalier," "The Headless Bride," "Black Widow's Waltz," "Barrow Brine"
If you missed any of these when we first published them, I hope you'll take this opportunity for another look. And if you have any favorites, please consider giving them boosts in whatever manner feels right.
#SFWApro