CLOCKWORK PHOENIX 5 story by Barbara Krasnoff a finalist for Nebula Awards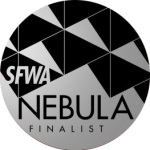 I was gobsmacked (in the best possible way) to learn this morning that Barbara Krasnoff's story from Clockwork Phoenix 5, "Sabbath Wine," is a finalist for the 2016 Nebula Award for Best Short Story!
To celebrate, and to make the task easier for Nebula voters, we've made the story available online here for all to read. You can also watch Barbara read excerpts from her story during the February 2016 New York Review of Science Fiction Readings.
I'm honored to be the publisher of this piece, and I've had the pleasure of hearing Barbara read aloud from it at the launch held for Clockwork Phoenix 5 in Brooklyn last April and again during the group reading at last year's ReaderCon.
Barbara is a regular contributor to our pages, with stories in Clockwork Phoenix 2, Clockwork Phoenix 4, Mythic Delirium 2.1 (July-Sept. 2015), and upcoming in Mythic Delirium 3.4 (April-June 2017). She's an excellent writer, deft at characterization, and it's wonderful to see her work land this level of recognition.
Anita and I want to give Barbara our heartfelt congratulations. We're superproud of her and we'll be crossing fingers for her when the winners are announced May 20.
We're proud of our track record with the Nebulas, too. Previous nominees from the Mythic Delirium Books stable include "Hooves and the Hovel of Abdel Jameela" by Saladin Ahmed (Clockwork Phoenix 2), "Selected Program Notes from the Retrospective Exhibition of Theresa Rosenberg Latimer" by Kenneth Schneyer (Clockwork Phoenix 4), and "The Bone Swans of Amandale" by C.S.E. Cooney (Bone Swans: Stories).