MYTHIC DELIRIUM spring issue is live: new features by Walters, Yolen, Gardner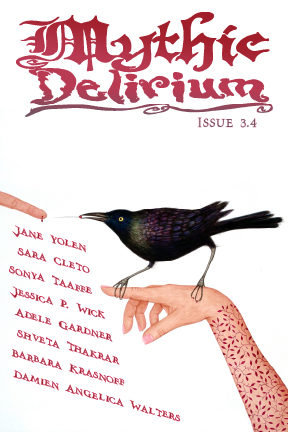 Mythic Delirium greets Spring 2017 with a heady mix that blends shades of grief and loss, yet has many rays of light to offer.
Damien Angelica Walters digs to expose undercurrents of magic that guide a family through a funeral in "On Grief and the Language of Flowers: Selected Arrangements." In Shveta Thakrar's "Ghost Notes," a hunger to steal the stories of others drives a sinister seduction. Barbara Krasnoff details a moving encounter between the living and the dead in "The Ladder-Back Chair."
Poems from Jane Yolen, Adele Gardner, Sara Cleto, Jessica P. Wick, and Sonya Taaffe continue the interactions of mourning and magic, by way of goddesses and gardens, ghosts and prophecy, homunculi and witches, ancient languages and graves.
Our cover art, "Prick," comes from Susan Jamison, who paints in egg tempera. Her works often convey mysterious women communing with animals who could be spirit guides or familiars. This painting, which, shall we say, leaves a mark, complements this issue perfectly.
Here's the schedule for featured content from this issue:
Featured in April
On Grief and the Language of Flowers: Selected Arrangements • Damien Angelica Walters
The Confessions of Persephone • Jane Yolen
Haunt Me • Adele Gardner
Featured in May
<!a href="https://mythicdelirium.com/?page_id=5755&">Ghost Notes • Shveta Thakrar<!/a>
<!a href="https://mythicdelirium.com/?page_id=5721">How to Grieve: A Primer for Witches • Sara Cleto<!/a>
<!a href="https://mythicdelirium.com/?page_id=5731">The Fetch • Jessica P. Wick<!/a>

Featured in June
<!a href="https://mythicdelirium.com/?page_id=5770">The Ladder-Back Chair • Barbara Krasnoff<!/a>
<!a href="https://mythicdelirium.com/?page_id=5706">Grave Robber • Jane Yolen<!/a>
<!a href="https://mythicdelirium.com/?page_id=5697">bn ʾdnbʿl bn ʾdrbʿl • Sonya Taaffe<!/a>
Subscriptions

Issue 3.4
#SFWApro