The summer Mythic Delirium is live: new features by Larson, Yolen, Ness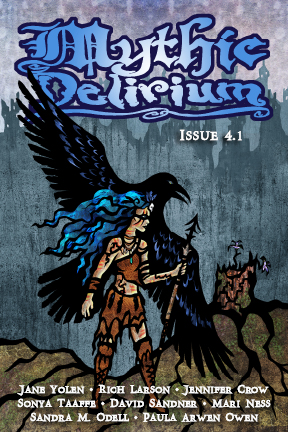 Our summer 2017 issue begins Mythic Delirium's fifth year as a digital magazine.
We're pleased to welcome "Dispo and the Crow" author Rich Larson to our pages. Having previously appeared in our our sister publication, Clockwork Phoenix, Larson is an author who has been generating a lot of buzz. The end-of-the-world theme in his story carries over into up-and-coming writer Sandra Odell's even quirkier "Resistance on a Park Bench, with Stale Bread and Ducks." This is Odell's first appearance in our pages, and we're delighted to welcome her.
The motifs of art, apocalypse, and resistance resonate with "Sunrise with Sea Monsters," our concluding story. David Sandner is a veteran of Clockwork Phoenix and of the print version of Mythic Delirium. This is his first time appearing in the digital incarnation.
Our poets this time out, Jennifer Crow, Mari Ness, Sonya Taaffe, and Jane Yolen, all have long histories with the magazine. Their verses tell of gods and marriages, tragedies and descents, and contemplate the mysteries of the heavens.
Frequent contributor Paula Arwen Owen returns with this issue's cover art, "Warrior of the Night Feather Tribe," inspired by Larson's "Dispo and the Crow," but taken in a direction of her own wonderful invention.
Here's our current live features from this issue and our schedule for the rest:


Featured in July
Dispo and the Crow • Rich Larson
Marrying the Bear • Jane Yolen
Hunter • Mari Ness
Featured in August
<!a href="https://mythicdelirium.com/?page_id=6108">Resistance on a Park Bench, with Stale Bread and Ducks • Sandra M. Odell<!/a>
<!a href="https://mythicdelirium.com/?page_id=6129">Other People's Tragedies • Jennifer Crow<!/a>
<!a href="https://mythicdelirium.com/?page_id=6138">On the Day When Dumuzi Comes Up • Sonya Taaffe<!/a>

Featured in September
<!a href="https://mythicdelirium.com/?page_id=6158">Sunrise with Sea Monsters • David Sandner<!/a>
<!a href="https://mythicdelirium.com/?page_id=6124">Masques and Mayhem • Jennifer Crow<!/a>
<!a href="https://mythicdelirium.com/?page_id=6118">Night Does Not • Jane Yolen<!/a>
Subscriptions

Issue 4.1
#SFWApro