World Fantasy Award nominations for CLOCKWORK PHOENIX 5; read Rachael K. Jones's short fiction finalist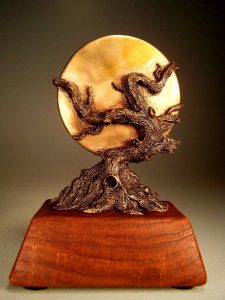 Last week, we at Mythic Delirium Books (i.e. Anita & I) received terrific news.
When the list of nominees for the 2017 World Fantasy Awards went public, Clockwork Phoenix 5 turned out to be represented twice. The entire book is a contender in the category for Best Anthology, and Rachael K. Jones's "The Fall Shall Further the Flight in Me," the second story in the table of contents, is a finalist for Best Short Fiction.
As part of our celebration of this good fortune, we've made Rachael's beautiful story free to read online. You can find it here. Congratulations to Rachael for this much-deserved recognition.
These are the first World Fantasy nominations for the Clockwork Phoenix series, and for me personally, this is a dream come true. I was going to write that the only way for me to properly thank all the people who helped bring this book to life would be to post the entire seven-page "Acknowledgments" section in the back of the anthology, but having glanced over it I realize even that wouldn't cover everybody, as work continued beyond the first printings of the book that involved even more folks who are not mentioned, work that would not have gotten done without their help.
Most importantly, I must thank cover artist Paula Arwen Owen and the twenty-one writers who produced the twenty excellent pieces of short fiction that I had the privilege to edit and publish in this book. Though my name is on the ballot, I am standing on their shoulders.
The memory of C.S.E. Cooney's Bone Swans winning Best Collection at the World Fantasy Convention in Columbus, Ohio, is still fresh in my mind almost ten months later. Add that to this new development and you have proof positive of how far Mythic Delirium Books has come in ten years.
These new nominations bring with them a strange sense of competitive anticipation, as if we are both dark horses and defending champions. This feeling is illusory, of course; in all likelihood the winners have already been selected, with the reveal to be delayed until the November ceremony in San Antonio, Texas. Nonetheless, good luck to Rachael, good luck to all the contributors, and good luck to the many wonderful friends and colleagues who also made the ballot.
It seems especially appropriate that I've been scheduled to participate in a panel remembering Tanith Lee at Worldcon 75 in Helsinki. Tanith had a hand in shaping the Clockwork Phoenix series directly with her contributions to the first four volumes and indirectly through her influences on many other authors that I've worked with. Clockwork Phoenix 5 is dedicated to her memory, and thus so is this nomination.
Clockwork Phoenix 5 is also dedicated to Elizabeth Campbell, a friend without whose help many of things we've accomplished in the past seven years would not have been possible. Chalk this up as one more thing.
#SFWApro