The fall issue of Mythic Delirium is here! New features: Van Pelt, Walters, Mohlere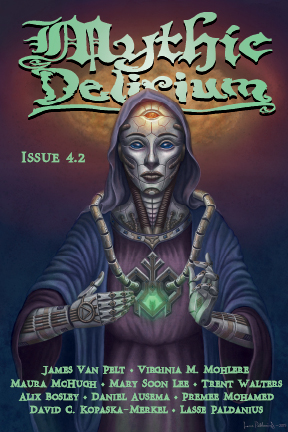 Our autumn issue is here, full of work that we suspect you'll find strangely uplifting — in the case of at least one story, literally so. We offer this new issue of Mythic Delirium in the spirit of sharing the fun we have as science fiction publishers.
James Van Pelt joins us for the first time with "The Elevator Illimitable," a story that demonstrates the range of adventures one can have while standing in the same spot day after day. Daniel Ausema, who first appeared in our pages with poetry, contributes the surreal epistolary tale "The Desert Cure." Premee Mohamed, another newcomer to our digital pages, provides a triumphant sports story with a preternatural twist in "The Water and the World."
Our poetry this time around comes from Alix Bosley, Maura McHugh, David C. Kopaska-Merkel, Mary Soon Lee, Virginia M. Mohlere, and Trent Walters, covering distractions of the heart, learning to breathe water, a drowned ship, the mysteries of horses and trees, and the wisdom of heeding omens.
Our wonderful cover art comes from Lasse Paldanius, an artist we found through the Worldcon 75 art show in Helsinki.

The new issue is available for purchase in its entirety on Amazon and also at Weightless Books. Here are links to the current online features and the feature schedule for the rest of the year:

Featured in October
The Elevator Illimitable • James Van Pelt
Baucis and Philemon • Trent Walters
The Heart Stopped (Mid-Race) • Virginia M. Mohlere
Featured in November
<!a href="https://mythicdelirium.com/?page_id=6359">The Desert Cure • Daniel Ausema<!/a>
<!a href="https://mythicdelirium.com/?page_id=6344">Backswamp Atlantis • Alix Bosley<!/a>
<!a href="https://mythicdelirium.com/?page_id=6345">Submerged • Maura McHugh<!/a>

Featured in December
<!a href="https://mythicdelirium.com/?page_id=6360">The Water and the World • Premee Mohamed<!/a>
<!a href="https://mythicdelirium.com/?page_id=6346">Lotus Moon • Mary Soon Lee<!/a>
<!a href="https://mythicdelirium.com/?page_id=6347">Signs • David C. Kopaska-Merkel<!/a>

#SFWApro