More honorable mentions for stories from Mythic Delirium Books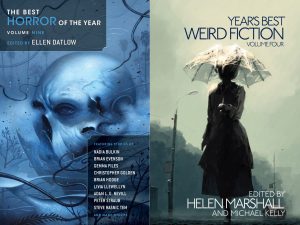 Ellen Daltow, editor of the Best Horror of the Year series, has released her longlist of 2016 honorable mentions. We're pleased and proud to share that seven stories and poems from our publications made the list.
From Clockwork Phoenix 5
Barbara Krasnoff, "Sabbath Wine"
Sonya Taaffe, "The Trinitite Golem"
A. C. Wise, "A Guide to Birds by Song (After Death)"
From Mythic Delirium
In addition, "A Trade at the Fox Wedding" by Roshani Chokshi and "The Trinitite Golem" by Sonya Taaffe also made the notable stories list released by the publisher of The Year's Best Weird Fiction Volume 4, edited by Helen Marshall and Michael Kelly.
Congratulations to our contributors for their great work.
#SFWApro