The Winter 2018 issue of MYTHIC DELIRIUM is live: features by Goh, Clarke, Raymond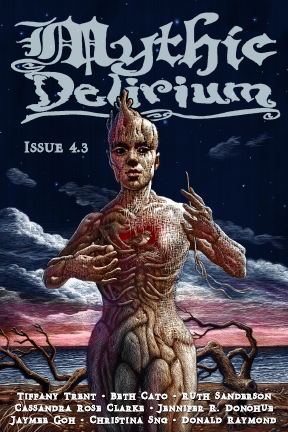 Where I live, winter hasn't brought snow, but it has brought the first Mythic Delirium issue of 2018, and that's a thing to celebrate. The new works we're presenting venture into the shadows, and few who follow after will emerge unscathed.
In "When the Bough Breaks," Jaymee Goh shows us how terrible it can be to see the warning signs, supernatural and not, when those with power won't heed them. A heartbreaking injustice burns at the core of Jennifer R. Donohue's "A Thing with Feathers," while evil calls coyly to evil in Tiffany Trent's "The Papyrotomist."
As for poetry, Beth Cato returns with a darksome narrative of sibling vengeance, as well as the moving work that inspired our cover artist, Ruth Sanderson. Christina Sng chronicles a growing nightmare, while Donald Raymond hints at hungry myths. Cassandra Rose Clarke also provides two poems, visions of eerie magic and sensuous death.
Our cover image is "This Body Made" by Ruth Sanderson, based on the poem of the same name by Beth Cato.
If you don't want to wait three months to read it all, you can buy the complete issue for $2.99 on Amazon here and in multiple formats at Weightless Books here.
Here's the schedule for online features from this issue.
Featured in January
When the Bough Breaks • Jaymee Goh
Summer Rain • Cassandra Rose Clarke
Legends of Coyote Creek, Part 1: The Wall of Monsters • Donald Raymond
Featured in February
<!a href="https://mythicdelirium.com/?page_id=6570">A Thing with Feathers • Jennifer R. Donohue<!/a>
<!a href="https://mythicdelirium.com/?page_id=6590">This Body Made • Beth Cato<!/a>
<!a href="https://mythicdelirium.com/?page_id=6593">After Her Brother Ripped the Heads from Her Paper Dolls • Beth Cato<!/a>

Featured in March
<!a href="https://mythicdelirium.com/?page_id=6574">The Papyrotomist • Tiffany Trent<!/a>
<!a href="https://mythicdelirium.com/?page_id=6596">Born of Blood and Tears • Christina Sng<!/a>
<!a href="https://mythicdelirium.com/?page_id=6597">Porphyria's Other Lover • Cassandra Rose Clarke<!/a>

#SFWApro