MYTHIC DELIRIUM 20th anniversary e-book sale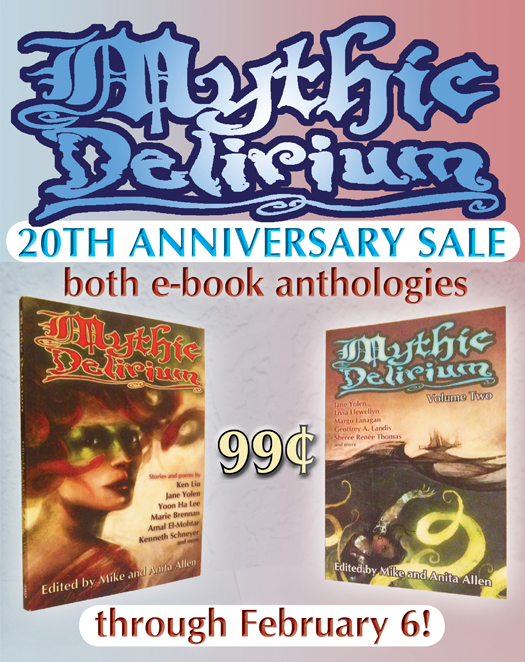 Here's where you can find the ebook editions on special:
Cover art by Galen Dara
We're coming up on the release of the 20th anniversary issue of Mythic Delirium. That issue will contain double the usual ration of fiction, and a detailing of our long strange history. But before we get there, we have a new e-book offer made in the same celebratory spirit.
Through Feb. 6, the e-book editions of the Mythic Delirium anthologies (full titles Mythic Delirium: an international anthology of prose and verse and Mythic Delirium: Volume Two) are available for 99 cents everywhere e-books are sold.
These books contain all the stories and poems from our first two years as a digital zine, with work by Jane Yolen, Natalia Theodoridou, Livia Llewellyn, Adam Howe, Dominik Parisien, Geoffrey A. Landis, Sonya Taaffe, Shveta Thakrar, Sheree Renée Thomas, Margo Lanagan, Virginia M. Mohlere, Margo Lanagan, Kristine Ong Muslim, Sunny Moraine, C.S. MacCath, Swapna Kishore, C.S.E. Cooney, Ken Liu, Kenneth Schneyer, Yoon Ha Lee, Beth Cato, Yukimi Ogawa, Nicole Kornher-Stace, Mari Ness, Amal El-Mohtar, Marie Brennan, Georgina Bruce, Sandi Leibowitz, Christina Sng, and many many more.
#SFWApro