LATCHKEY by Nicole Kornher-Stace available for readers & reviewers on NetGalley
At least through the end of April, the novel we're bringing out this summer, Latchkey by Nicole Kornher-Stace, will be available on NetGalley for curious readers and reviewers. If you're a member of NetGalley, you can follow this link to put in a request for copies of the advance review ebook edition.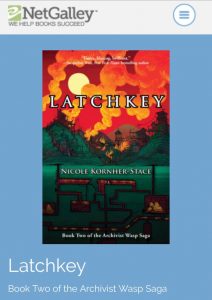 Latchkey is the follow-up to Kornher-Stace's acclaimed debut YA novel Archivist Wasp (Big Mouth House, 2015). We're pleased that we get to share this sequel. We'll have copies with us at Readercon in July, and we plan to bring the author herself along too, so we all hope to see you there.
In other Latchkey news, preorders of the paperback are live now on Amazon. Hopefully we'll have Kindle preorders set up by the end of the week. (We'll do another announcement once that's all square.)
#SFWApro