LATCHKEY gets starred review from KIRKUS + many more blurbs
Launch day for Latchkey by Nicole Kornher-Stace is just a month away now, and because I've been occupied with behind-the-scenes preparation, I've not blogged here about on-the-stage things have happened this past month. Such as:
Latchkey got a starred review from Kirkus Reviews!
Near-future science-fiction crimes bleed into dystopian horror centuries later in a wildly imaginative genre-hybrid sequel to Archivist Wasp (2015) . . . Less mythic in tone and more conventional in structure than the first, this title nonetheless delivers gripping action while deepening mysteries in restrained prose studded with flashes of vulgar brutality and startling poetry. Isabel's post-apocalyptic world, with all its graphic violence and cruelty, still exhibits solidarity, tenderness, and joy. Allusions to names of varying ethnicities and a range of skin tones indicate an unobtrusive diversity . . . Although this narrative provides satisfying closure, readers will hope for more about these unlikely allies.

Excruciating, cathartic, and triumphant.
Read the full review here.
It's the second published pro review for Nicole's novel and the first ever appearance in Kirkus by a Mythic Delirium Book. Anita and I couldn't be prouder.
In addition to that review, Latchkey has accumulated many more wonderful, glowing blurbs, from the likes of Leah Bobet, Brooke Bolander, Marie Brennan, Roshani Chokshi, Amal El-Mohtar, Patty Templeton, Ysabeau S. Wilce and Fran Wilde.
Frankly, it's easier to share the whole gamut than to pick out the ones that just came in, so here they are in toto. I sure don't mind sharing.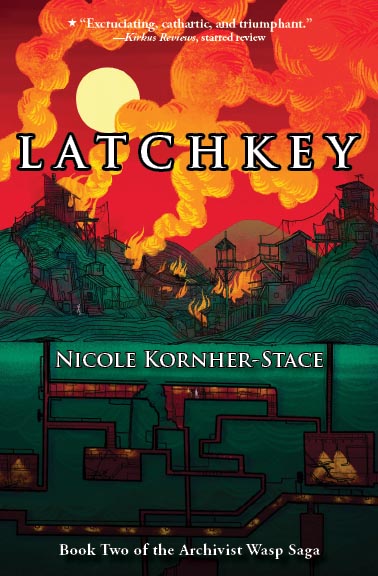 "Kornher-Stace understands that the best sequels don't retread old ground; they use what you know to build something fresh, something both natural and unexpected. Latchkey peels away the layers of its past while pushing its characters into the future, offering the hope that out of the wreckage of old cruelty might come new dreams. Like a ghost caught in a loop, you'll find yourself drawn in, not to escape until it's done."
—Marie Brennan, Hugo Award-nominated author of A Natural History of Dragons

"Like Catchkeep's harvester knife, Latchkey will cut you up. Wasp, now Isabel, may no longer be the Archivist, but her force and fire remain undiminished, even in the face of raiders, amnesiac ghosts and her own psychic wounds. I adored Archivist Wasp for its unerring vision of an atavistic mythos-ridden future and its dangerous heroine, but Latchkey ups all the antes as Isabel struggles to create a new future for herself, her fellow villagers, and the ghosts—whose past traumas might be the key to everything. Kornher-Stace's action is precise and razor-sharp, and her talent for bringing her characters—and her readers—to the brink is unsurpassed. Oh, and her world-building! Latchkey leaves other dystopias in the dust wallowing in More-of-the-Same. Kornher-Stace doesn't do More-of-the-Same; she's a strictly leave-her-readers-in-palpitations type of writer. Prepare to palpitate, and to read the entire novel in one go. I did. Like the ghosts that just won't leave Isabel alone, I'd follow Kornher-Stace anywhere. After reading Latchkey, you will too."
—Ysabeau S. Wilce, Andre Norton Award-winning author of The Flora Trilogy and Prophecies, Libels and Dreams

"As lean, dusty, and haunted as the overgrown ruins of a greyhound racetrack, Latchkey, like its predecessor, is a beautifully written ode to friendship, survival, secrets, and memory. Wildly inventive, saturated with grit and guts and a wistful, calloused ephemerality, this is a book that lands with all the sting and palm-tingling impact of two partners joining hands before facing down impossible odds. It refuses classification. It laughs grimly at the concept of labels. It tests boundaries and kicks the door in with a quirked lip and a sad glint in its narrowed sunset eye.
"Nobody else could have written Latchkey. More than anything else I've ever read, this is undiluted, 110% the vision of one author. Nicole Kornher-Stace is her own genre entirely, and if you're anything at all like me, you are the target audience."
—Brooke Bolander, Hugo, Nebula, Locus and World Fantasy Award-nominated author of The Only Harmless Great Thing

"Latchkey is explosively imaginative. This narrative shimmers with rich characters and a nuanced mythology. Weaving throughout it like a trail of ink is a heartbreaking exploration of trauma and how we engage with the scars left behind by history. Readers will leave this world feeling as if they've drawn new breath."
—Roshani Chokshi, New York Times–bestselling author of The Star-Touched series and Aru Shah and the End of Time

"I loved Archivist Wasp, and Latchkey surpasses it in every way. Everything about it moved me to tears and wonder: the girls who used to be mortal enemies amicably dividing up chores; Isabel's tender hopes for community alongside her aching loneliness; the tentative expansion of her world's horizons to other starveling towns. Latchkey reads like a parting of Archivist Wasp's mists: clear, sharp, taut, with an angry, singing heart, this is a book that refuses categories by embracing everything it loves."
—Amal El-Mohtar, Hugo-award-winning author and critic

"Nicole Kornher-Stace's Latchkey is equally gorgeous and spooky. In this sequel to Archivist Wasp, Isabel and her companions must save their home by unearthing the secrets of the past. Latchkey vividly asks so many of the right questions about what memories linger after an apocalypse, for worse and for better. Surreal, beautifully rendered cross-genre action-adventure."
—Fran Wilde, Andre Norton-winning, Nebula and Hugo-nominated author of Updraft and The Bone Universe Series

"Latchkey's prose is elegantly self-effacing: smooth, easy to read, and full of adroit turns of phrase. Kornher-Stace has a gift for creating atmosphere, from the familial closeness of Isabel's small community of former upstarts in the Catchkeep-temple, to the ominous claustrophobia of the tunnels beneath Sweetwater, and into the hectic chaos and turmoil of battle. And underwriting every moment is a core of kindness, of compassion—of choosing a path away from cruelty, even when it's hard: a core that makes this book, for all its darkness, somehow fundamentally uplifting. If I had to choose one word to describe this novel, it would be compelling: in its pacing, its characterisation, and even in its genre-blending approach to worldbuilding, it compels attention. I really enjoyed Latchkey. I can't recommend it, and Archivist Wasp, highly enough."
—Liz Bourke, Locus

"The sequel to Nicole Kornher-Stace's Archivist Wasp is a breathless rollercoaster ride through hope, despair, narrow escapes, and a history that refuses to die, built on a bedrock theme of community and friendship. All the characters are individual, convincing, and alive—including the dead ones. I've never read anything like it, except Archivist Wasp. If you're looking for a fresh voice in dark fantasy, you've found one."
—Delia Sherman, author of The Evil Wizard Smallbone

"Spine-tingling ghost encounters and tension sharp as razorwire make this a sequel well worth waiting for. You will not want to miss this, but you might need to sleep with the lights on and plant a protective circle of ghostgrass around your bed!"
—Tiffany Trent, award-winning author of The Unnaturalists

"Nicole Kornher-Stace's Latchkey is a little like retracing a war veteran's scars with a scalpel and asking, 'So. Does this hurt more than the original?' It does, of course. Hurts good, hurts deep, this almost-familiar world that bleeds right into ours, where the only thing fiercer than ferocity is tenderness—though both talk equally as tough. After reading Latchkey, one starts seeing ruins superimposed over currently thriving structures. Every struggling patch of city lawn becomes a garden of ghost grass; every breezy puff of leftover winter holds the possibility of frostbite and vertigo and seeing the face of a long-lost friend once more. Has there ever been such longing, fueled by such darkness and adrenaline? Has there ever been such satisfaction, and at such a cost?"
—C. S. E. Cooney, World Fantasy Award-winning author of Bone Swans

"Latchkey is the opposite of escapist: it is, instead, horror for people with the courage to benefit from beholding actual horrors. Building on the deeply-realized Archivist Wasp, in Latchkey we are given a world even more fallen and brutal, for now even the old order of the archivists is broken. Here, when heroes are hurt, they stay hurt; here, the survivors must endure trauma without the words to describe it; here, knowledge itself is both deeply suspect and humanity's only hope. History itself, embodied by blood-hungry ghosts, by turns cannibalizes the living and provides the only way forward. And yet, for all the loss and bodily pain, Latchkey shows us the power of community and the worth, greater than diamonds, of courage. Cathartic, feminist, explosively imaginative and masterfully told, Kornher-Stace gives us a second-world fantasy that transports our minds while, time and again, it emotionally arrives."
—Carlos Hernandez, author of Sal and Gabi Break the Universe

"What a great read! This surreal dreamscape of a book delves deeper into the unique world of the Andre Norton Award finalist Archivist Wasp, continuing a resilient heroine's unusual friendship with a super-soldier ghost amid a far-future dystopia they both struggle to survive and understand."
—Beth Cato, author of The Clockwork Dagger and Breath of Earth

"Nicole Kornher-Stace's Latchkey is a completely unique and enthralling story. A blend of fantasy, paranormal and more that defies categorization, I couldn't put it down. Highly recommended!"
—Jennifer Brody, award-winning author of The 13th Continuum

"Latchkey has the fierce heart of Fury Road and the kindness of Station Eleven—a deliriously readable future ghost story sewn through with action, healing, and hope."
—Leah Bobet, multiple award-winning author of An Inheritance of Ashes

""Nicole Kornher-Stace is a goddess of grit and heartworn heroes. In Latchkey, book two of the Archivist Wasp Saga, the reader is hurled into a world of ruins, raiders, and lost tech. It's a severe setting, and Kornher-Stace could've gone full grim future, but instead, she manifests character friendships that just may get the reader through the long dark of troubled times."
—Patty Templeton, author of There Is No Lovely End

"Fierce, blazing, brilliant. The mythic and brutal world of Nicole Kornher-Stace's Latchkey is so richly realized, you don't step into it, you fall."
—Jacqueline West, New York Times–bestselling author of The Books of Elsewhere
#SFWApro