Interviews with LATCHKEY author Nicole Kornher-Stace: a roundup
A lot has happened since our successful launch of Nicole Kornher-Stace's novel Latchkey at Readercon last month, and I've been remiss about sharing those developments here. (It's been a busy time!) First off, as we've been promoting Latchkey, Nicole has done a few interviews. Here's a roundup of the ones that have appeared so far.
At bestselling author John Scalzi's popular Whatever blog, Nicole contributes a "Big Idea" essay in which she talks about how Lyme disease and The Golden Bough influenced the writing of Latchkey.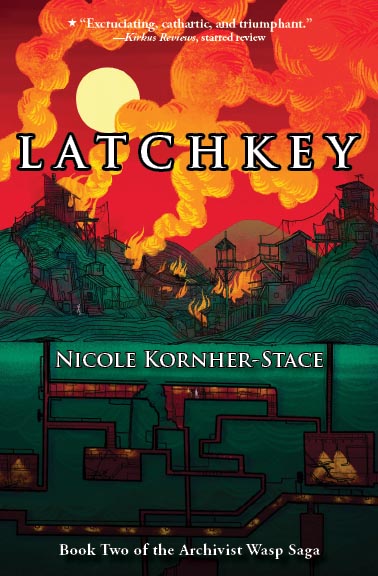 "The longer you stay dead, the longer you wander the underworld, the hazier and more fallible your memories of your life — and yourself — become. Eventually you lose your sense of self, your image of yourself, and you revert to a faceless silvery cutout, like a paper doll the approximate size of you."
And over at The Book Smugglers blog, Nicole discusses why romance isn't a must-have ingredient for YA fiction.
"And then something amazing happened. This weird little book found its readers. It found a lot of them. And they started saying these wonderful things about how this was the exact book they needed, the lack of romance is so refreshing, they wished they had this book when they were younger . . ."

Alternatives to Romance: Nicole Kornher-Stace on writing platonic relationships in Archivist Wasp and Latchkey
At The Illustrated Page, Nicole talks more about what went into the writing of Latchkey.
"It's a bigger book than Archivist Wasp — more characters, more action, more complexity, more scope and scale, more going on in general. I had to rewrite it a number of times before I got it to where I wanted it. Even so, I always had fun with it."
At Black Gate, she talks about the origins of Archivist Wasp and Latchkey and other projects in the works.
"I have a story set in Wasp's world that came out in Clarkesworld last year [click here to visit], I'm working on another book that takes place in the world that ghosty and Foster come from, and I've been kicking around this halfassed notion of writing up the star-myths of Wasp's world, not within the framing context of a novel, but just as straight-up folklore. But who would buy it? It's a little obscure, even for me. Maybe I'll throw it up on a Patreon someday [click here to visit] and see what happens."

The Latchkey Revelation: An Interview with Nicole Kornher-Stace
And at award-winning YA author Fran Wilde's Book Bites, Nicole offers her recipe for cold-brewed coffee and writes about the foodstuffs available in Latchkey (or the lack thereof.)
"I put more work into Latchkey than I ever have into any single piece of writing, and that includes my first novel, which had an entire 5-act play embedded in it. (I don't know what's wrong with me either.)"
There's been more reviews of Latchkey since its July 10 premiere, and Nicole has some upcoming appearances scheduled, both virtual and in person. I'll post about all that stuff in the next couple of weeks.
#SFWApro