AMA with Nicole Kornher-Stace on Reddit this Thursday + other upcoming appearances + Patreon
If you're a fan of Nicole Kornher-Stace's Archivist Wasp and its sequel Latchkey (new-ish from Mythic Delirium Books!), or you've had the pleasure of checking out her mind-bending debut novel Desideria (a thing you really should do if you haven't), or you wonder what happens after the cliffhanger ending of her novelette "Last Chance" (set in the Wasp-verse) you can ask her all about it this Thursday in the r/Fantasy Reddit community.
On that day Nicole is conducting her first ever Reddit AMA (Ask Me Anything). Don't miss it.
Here's the link to where it will be: https://www.reddit.com/r/Fantasy/
In addition to this virtual appearance, Nicole has two in-person readings coming up.
She'll give a reading Sunday, Nov. 18 at 4 p.m. at the super-cool Inquiring Minds independent bookstore at 6 Church Street in her hometown of New Paltz.
Then, on Wednesday, Dec. 19, she'll read at the storied KGB Bar in Manhattan in her second appearance in the Fantastic Fiction at KGB reading series, paired with Maria Dahvana Headley. Ellen Datlow and Matt Kressel host this popular and prestigious series.
Of course, I hope folks turn out to hear Nicole reading from Latchkey. I note, though, that if you don't want to wait until these dates to get another dose of Isabel and the ghost, she's started a Patreon where she's sharing exclusive drafts of new stories in the Wasp-verse, and deleted scenes from her novels. Find her Patreon here: https://www.patreon.com/nicolekornherstace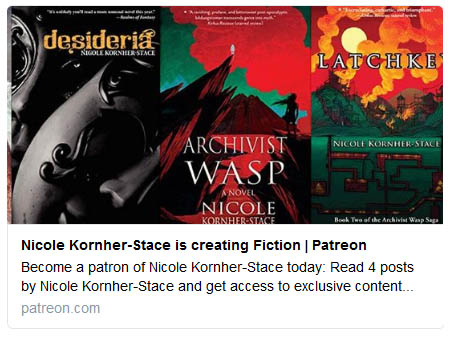 #SFWApro