[ENDED] Archivist Wasp Saga Special, Jan. 12-15: grab both novels by Nicole Kornher-Stace at a deep discount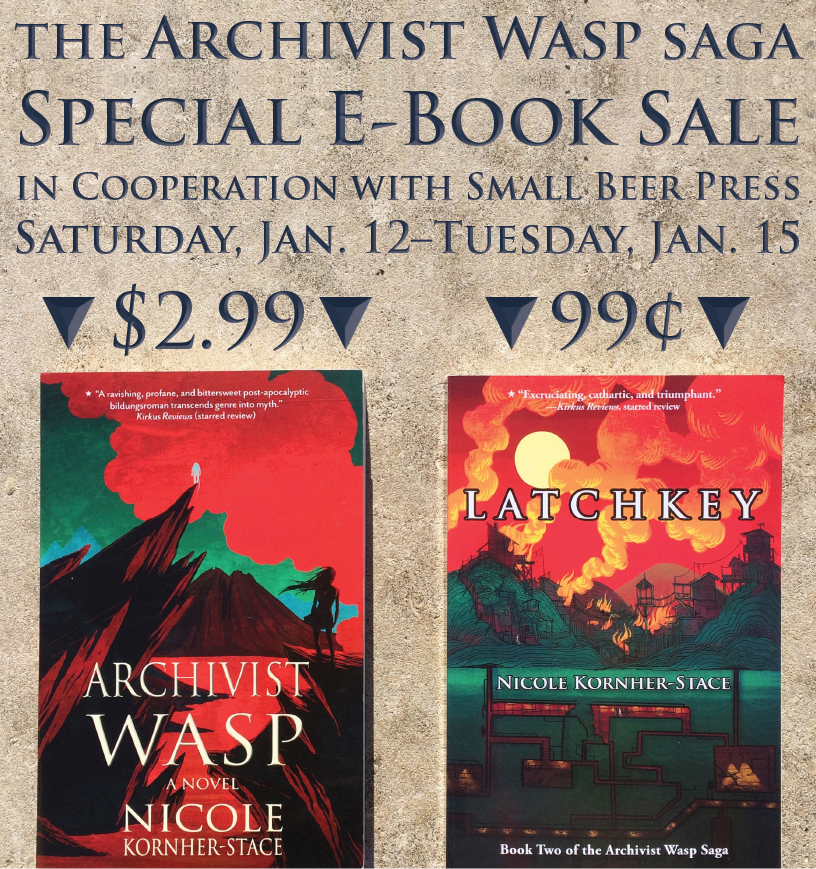 UPDATE 1/13: Amazon has discounted Archivist Wasp to $2.51 per e-book!
GET IT HERE: AMAZON KINDLE

We apologize that Archivist Wasp was not discounted on Amazon when the sale began Jan. 12. The fault was not ours. However, we are relieved that we can proceed now as was originally planned. Kindle compatible editions are also available at WEIGHTLESS BOOKS.
With Latchkey by Nicole Kornher-Stace landing on three (so far) year-end best of 2018 lists, we at Mythic Delirium Books (all two of us!) wanted to do something to celebrate. We're incredibly grateful to Small Beer Press for partnering with us to make this sale possible.
Now you can nab, for less than $5, the complete post-apocalyptic adventures of the warrior named Archivist Wasp and the nameless ghost from the distant past who travels with her and fights beside her.
Mythic Delirium Books will discount e-book editions of Latchkey by Nicole Kornher-Stace to 99 cents from Jan. 12-15, in cooperation with Small Beer Press, who will discount prequel Archivist Wasp to $2.99. (See notes below for additional clarifications.)
Cover art by Jacquelin de Leon
NOTE: Not all venues that carry e-book editions of Latchkey carry e-book editions of Archivist Wasp.
#SFWApro