The Theodora Goss Collection + ongoing e-book sale
In a thrilling bit of news that ideally I would have announced a month ago — but the times are what they are and my lack of time is what it is, so I am belatedly getting around to it now — Mythic Delirium Books has added two new members to the family. We are proud to become the new stewards of the Theodora Goss Collection, first created by our friends at Papaveria Press in 2014.
The collection consists of short story collection In the Forest of Forgetting and poetry collection Songs for Ophelia, both of which were finalists for the Mythopoeic Award. We're proud to continue to feature Virginia Lee's gorgeous matching cover art, and the introductions written by Terri Winding for Forest and Catherynne M. Valente for Songs. We're offering both paperback and e-book editions, all of which are available for purchase now, and we've made them available in more venues than they were previously. (And at the moment all e-book editions are on sale for $1.99, as are most other Mythic Delirium Books offerings; more on that below.)


paperback editions
e-book editions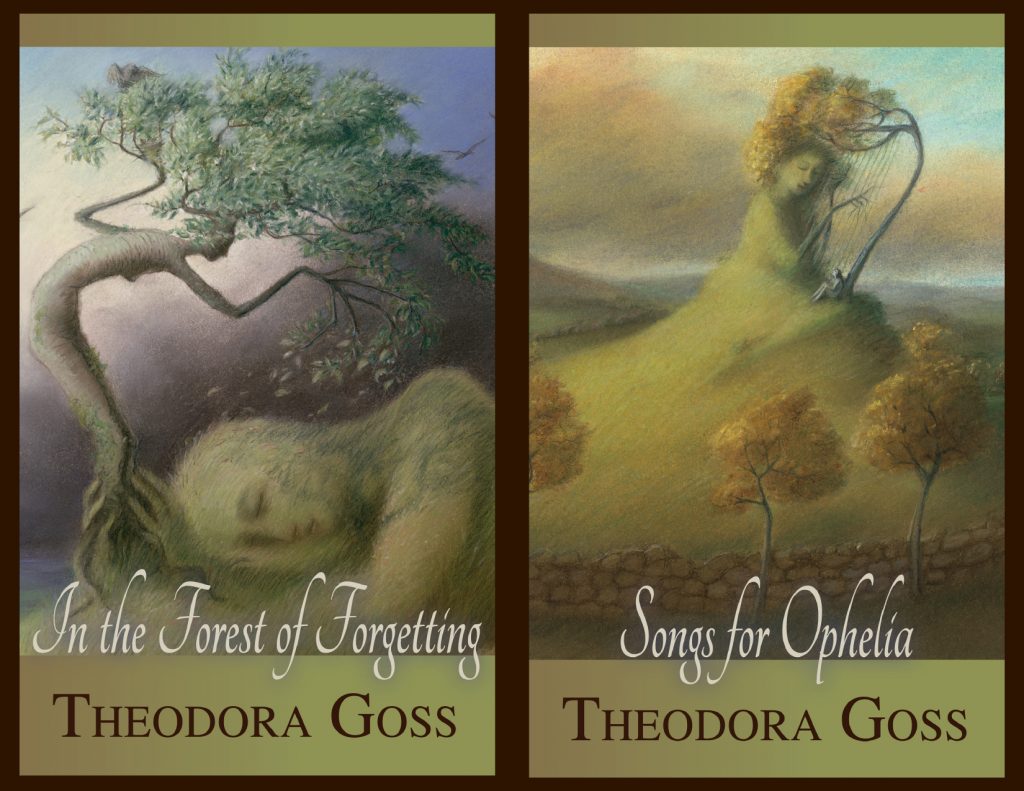 Songs for Ophelia: Amazon | Amazon UK | Amazon CA | Amazon DE
Amazon AU | Nook | iBooks | Kobo | Google Play
Some praise for In the Forest of Forgetting

"It should be said right away that praise is due Theodora Goss, praise be. In the Forest of Forgetting ranks with Joe Hill's 20th Century Ghosts, Glen Hirschberg's The Two Sams and Kelly Link's Stranger Things Happen and Magic for Beginners as one of the finest collections of short fiction from a member of that class of authors of the 21st century who are comfortable here."
—John Clute, SciFi.com

". . . it doesn't seem too hasty to exclaim, 'Classic!'"
—Ray Olson, Booklist, starred review

"An original voice, and an original vision: crystalline, precise, mordant and devastating."
—Ellen Kushner, author of Swordspoint
Some praise for Songs for Ophelia

"These poems by Theodora Goss are wonderfully nineteenth century and yet modern faerie at the same time. They remind me of the best of the ballads, both the ones from the long tongue-polishing of singers and the ones written by a single poet like Keats' 'Belle Dame Sans Merci'. Not to be missed. Especially the 'Ophelia Cantos'."
—Jane Yolen, author of Sister Fox's Field Guide to Writing, Things to Say to A Dead Man, and Owl Moon

"Willows, dancing maidens, gypsies, mothers, lovers, daughters, magic animals, living waters, and transformations of all kinds abound in these gorgeous poems. With her formal prosody, her fairytale subjects, and her insights on love and loss and longing, Goss manages, Janus-like, to look back to the Victorians and inward at the heart of a modern woman with intelligence and grace."
—Delia Sherman, author of The Freedom Maze and Changeling
$1.99 e-book sale
As I mentioned above, the e-book editions of In the Forest of Forgetting and Songs for Ophelia are all available right now for only $1.99, as is true for most Mythic Delirium Books, excepting those that are at this point only available for pre-order. This began as a pandemic-related "times are hard for everyone right now/the publisher has an unpaid furlough pending" sale on Theodora Goss's books that I expanded soon after to include most of our titles.
See below for a list of books you can get right now for $1.99.