AFTERMATH OF AN INDUSTRIAL ACCIDENT available for review on Netgalley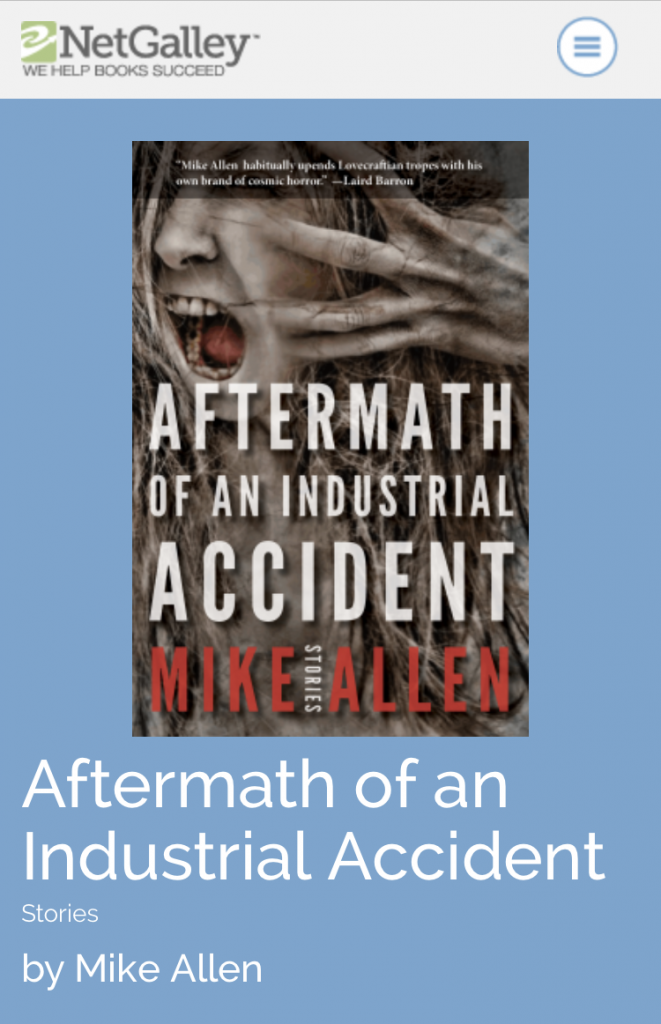 The second scary summer release from Mythic Delirium Books is less than a month from release — the first of course is A Sinister Quartet, available most everywhere — and if you have a Netgalley account, then you can request a copy of our second spooky release and preview it for yourself. Aftermath of an Industrial Accident, the newest collection of horror stories from Shirley Jackson Award finalist Mike Allen (a.k.a me!), debuts June 7.
You can request it from Netgalley here.
"So what does Mike bring to this particular collection? Well, I'm thinking he brought pretty much everything he's got … and that's a lot, to put it mildly. What I've said above, and what I'll be going on to say below, illustrate perfectly how extremely versatile Mike Allen is, and that's a quality I highly prize; a quality I am ever striving toward, myself. Many writers endeavor to establish a certain style or voice or tone, to clear a small but distinct plot of ground they can build within, so as to create a kind of brand that inspires recognition in a reader. Maybe this is just their natural inclination, or maybe it's a calculation. Perhaps they do this partly out of fear that if they extend themselves toward too many horizons on the compass, readers won't be able to get a grip on their work overall. And there's nothing wrong with such an approach! But those writers who do as Mike does have a special place in my heart.
"And what Mike does, as I say, is just about everything. In these pages you will encounter straight up horror. Experimental horror. High fantasy. Science fiction. Poetry. The consistency, here, is simply excellence.."
—from the introduction by Jeffrey Thomas, creator of Punktown
"From heartbreaking character studies to exercises in Grand Guignol excess, from scalpel-sharp poetry to sledgehammers of blood-soaked prose, Mike Allen displays not only his own considerable range, but the range of the horror genre as well. Aftermath of an Industrial Accident will surprise and delight you at every turn."
—Nathan Ballingrud, author of Wounds
pre-order links