Special deal on signed copies: A SINISTER QUARTET and AFTERMATH OF AN INDUSTRIAL ACCIDENT
In celebration of both of our 2020 titles appearing on the 2020 Locus Magazine Recommended Reading List and the Locus Poll, we at Mythic Delirium Books (that is, Anita and I) have put together a special deal on signed paperbacks of both books that we weren't able to get to in those final frenzied weeks of … 2020!
Just to reiterate: here's what made the Locus list!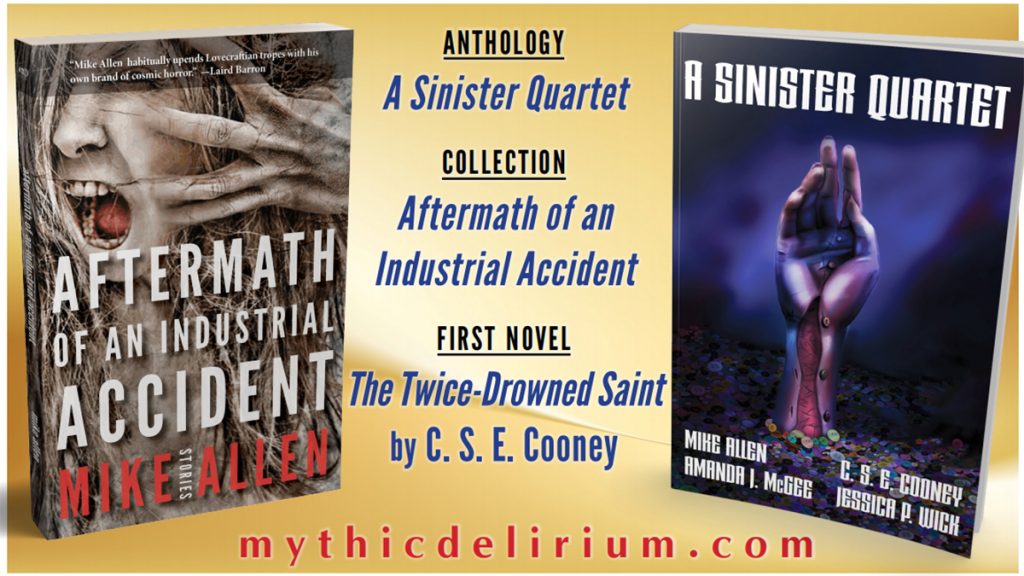 And this is the deal — and I'm afraid we have to make it U.S. only (though see parenthetical below) — for $25, as long as supplies last, you get signed copies of Aftermath of an Industrial Accident and A Sinister Quartet, as well as the four post cards created by Paula Arwen Owen that illustrate the four stories in Sinister: "The Twice-Drowned Saint" by C.S.E. Cooney; "An Unkindness" by Jessica P. Wick; "Viridian" by Amanda J. McGee; and "The Comforter" by yours truly.
Specifically, here's what "signed copies" means: I will sign Aftermath, while copies of Sinister will include book plates signed by all four authors. Here's where "while supplies last" comes in: I only have eight of these book plates, so once we sell eight of these special deals we're done.
What's more, the first four orders will have an additional book plate included that's signed by Sinister cover artist Jason Wren and cover designer Brett Massé.
The PayPal button below is for U.S. customers only. (I really wanted to make a version for international buyers but international shipping at the cheapest rate through the USPS is now about $40, which is uncouth. However, if you live outside the U.S. and you want a set badly enough to pay the equivalent of 60 USD, use the contact link at the top of the site to e-mail me and we will work something out.)


Buy now for $25
— U.S. Only!