Aftermath of a Shirley Jackson Award nomination
Boy, did this take an embarrassingly long time to write.
I'll be frank: I had resigned myself to the notion that, as a single drop tossed out into the world-changing tsunami of 2020, my book Aftermath of an Industrial Accident had already made all the ripples it was destined to make.
In June, Anita and I took a vacation trip to the Great Smoky Mountains National Park in Tennessee, celebrating our 29th anniversary, and on a day that was plagued by car malfunctions and eased by the kindness of multiple strangers, we ended up at a delightful seafood restaurant in Pigeon Forge called Harpoon Harry's that was well worth the hour wait. There at our table, waiting for dinner to arrive, my phone chimed an alert: an email from Shirley Jackson Award administrator JoAnn Cox, letting me know the jurors had picked Aftermath as a finalist for best single author collection.
In the days between that notification and the public announcement I kept checking my Gmail account to make sure I really had received that letter — the electronic equivalent of pinching myself. I am uncertain how obvious this would be to any reader who came to the books cold, but I have always pictured Aftermath as a spiritual sequel to my debut horror collection Unseaming; it's no casual coincidence that the books use the same cover artist and cover model. (And of course I want to thank artist Danielle Tunstall and model Alexandra Johnson for coming back on board!)
Given that I am hardly a name to conjure with, Unseaming did freakishly well — the 10,000th copy sold last month — but having Aftermath follow in Unseaming's footsteps in any way seemed too much to hope for. Except now, in an extremely significant way, it has.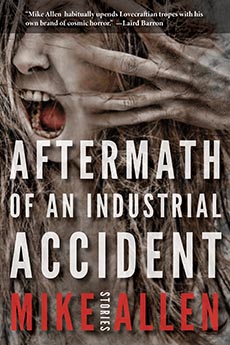 It means a lot personally as, of all my books, Aftermath is the one that most fully represents the range of my writing modes.
There are so many people who deserve credit and thanks for assisting me in the making of this book: Paul StJohn Mackintosh, who over multiple conversations at WorldCon 75 in Helsinki convinced me that Mythic Delirium would be the best publisher for this collection; Elizabeth Campbell, who helped with edits and who encourages me in all things, and without whom Mythic Delirium Books would not exist; Jeffrey Thomas, who not only wrote a wonderful introduction but went above and beyond to give me editorial feedback; Artist and designer Brett Massé, who turned my scribbly sketches for interior illustrations into something genuinely creepy to behold; to C. S. E. Cooney and Christina Sng, for allowing me to include our collaborations, and to early readers, blurbers and supporters Rod Belcher, Nathan Ballingrud, Craig L. Gidney and A.C. Wise; to Anya Martin and Scott Nicolay and all the Outer Dark crew for their support; to all the beta readers, editors and staff who helped these individual pieces along their way to their first publication; and of course, most importantly of all, to Anita, who worked her magic in ordering the stories and poems in this volume, and who is the reason I keep on keepin' on.
Finally, I want to thank the 2020 Shirley Jackson Award jurors for giving my book the nod, and placing it among such excellent company, when there were so many other candidates that were at least as equally deserving. And I want to thank the Shirley Jackson Award administrators for persistently calling attention to the rich legacy of the award's namesake in this really cool way.