Announcing DARK BREAKERS by World Fantasy Award winner C. S. E. Cooney, forthcoming February 2022
No less an authority than Merriam-Webster describes the new-minted sf/f subgenre term "hopepunk" as stories that find "narrative motivation in the idea of optimism — embodied in acts of love, kindness, and respect for one another — as resistance."
We here at Mythic Delirium Books contend that readers who are looking for hopepunk will find it in Dark Breakers, the newest collection of short fiction from World Fantasy Award-winning author C. S. E. Cooney, which we will release into the Universe on Feb. 15, 2022 in hardcover, trade paperback and e-book editions.
As highlighted in a Publishers Weekly article spotlighting hopepunk, the fantasy tales in Dark Breakers — two previously uncollected novellas, "The Breaker Queen" and "The Two Paupers," and three new stories, "Salissay's Laundries," "Longergreen" and "Susurra to the Moon" — take place in three parallel worlds, one inhabited by humans, one ruled by the Gentry (not unlike the Fae of Earthly legend) and one the realm of goblins. The heroines and heroes of these adventures confront corruption and the threat of tyranny armed with their own wits and the life-changing power of art.
Evocative black and white illustrations by Brett Massé appear throughout the book. Massé also provided the hauntingly retro cover art and design.
Electronic advance review copies are available for request on Edelweiss.
Pre-orders are activating now, with e-book pre-orders widely available and Barnes & Noble allowing advance purchases of all three editions.
Though Dark Breakers stands alone, the diverse cast of characters from Cooney's World Fantasy Award-nominated novella Desdemona and the Deep (Tor.com, 2019) returns for encores in these tales, and as with Desdemona, the fashion and the repartee evoke the Gilded Age prior to World War I. Not to mention, fans of Cooney's World Fantasy Award-winning debut Bone Swans (Mythic Delirium Books, 2015) will be delighted by the Easter eggs hidden throughout.

Here's even more about Dark Breakers, along with some kind words shared about the book by some of our favorite authors:
A young human painter and an ageless gentry queen fall in love over spilled wine—at the risk of his life and her immortality. Pulled into the Veil Between Worlds, two feuding neighbors (and a living statue) get swept up in a brutal war of succession. An investigative reporter infiltrates the Seafall City Laundries to write the exposé of a lifetime, and uncovers secrets she never believed possible. Returning to an oak grove to scatter her husband's ashes, an elderly widow meets an otherworldly friend, who offers her a momentous choice. Two gentry queens of the Valwode plot to hijack a human rocketship and steal the moon out of the sky.
Dark Breakers gathers three new and two previously uncollected tales from World Fantasy Award-winning writer C. S. E. Cooney that expand on the thrice-enfolded worlds first introduced in her Locus and World Fantasy award-nominated novella Desdemona and the Deep. In her introduction to Dark Breakers, Crawford Award-winning author Sharon Shinn advises those who pick up this book to "settle in for a fantastical read" full of "vivid world-building, with layer upon layer of detail; prose so dense and gorgeous you can scoop up the words like handfuls of jewels; a mischievous sense of humor; and a warm and hopeful heart."
"C. S. E. Cooney's prose is like a cake baked by the fairies—beautifully layered, rich and precise, so delicious that it should be devoured with a silver fork. Since you can't eat Dark Breakers, I suggest you read it slowly, savoring every slice. And if it gives you strange dreams—well, what did you expect of fairy cake?"
—Theodora Goss, World Fantasy and Mythopoeic Award-winning author of The Extraordinary Adventures of the Athena Club series
"Dark Breakers is a magnificent parure of novellas and matched stories, a suite of jewelled and velvet tales, delicately linked and ferociously glittering. A baroquely intense confection with a core of typewriters and coal fortunes, Dark Breakers is compounded of voluptuous invention and ferocious structural loves—for new romances and old friends, for the works of hands, for mortality and its gifts, and all the possibilities of worlds bleeding, weeping, wandering into each other's arms."
—Kathleen Jennings, World Fantasy Award-winning author of Flyaway
"Few people create worlds as lavish and sensual as those to spring from Cooney's effervescent imagination. Her writing isn't so much inspirational, but inspiration itself: gentry-magic spun into pages and paragraphs of glittering, fizzing, jaw-dropping beauty."
—Cassandra Khaw, British Fantasy Award-nominated author of The All-Consuming World
"Welcome to a Gilded Era like you've never before known and will never be able to forget. C. S. E. Cooney's Dark Breakers will transfix and transform you, and, should you chance upon its characters in a glittering hallway, you had best be wearing your fanciest moonlight, and be ready to dance. If Titania herself were to commission a book, it would be this one."
—Fran Wilde, two-time Nebula Award-winning author of Updraft and Riverland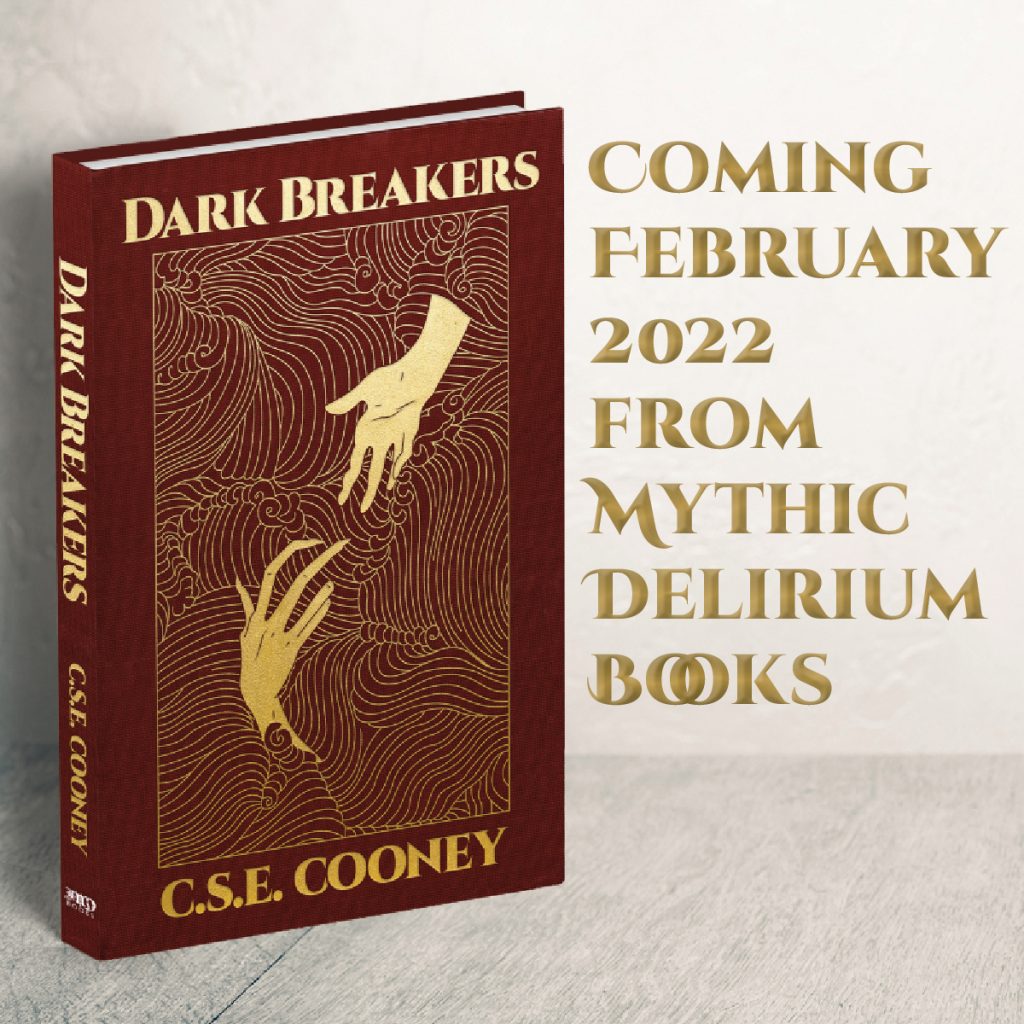 Pre-order now!
Review copies available for request on Edelweiss