A special offer for signed copies of DARK BREAKERS
Dark Breakers signed trade paperback copies still available!
Signed Sinister Quartet copies and Dark Breakers hardcovers have sold out!
We're pleased to share that we've got a healthy (yet limited) supply of signed copies of Dark Breakers by C. S. E. Cooney on hand, in both paperback and hardcover editions. This was possible because Claire signed them as we were packing up the inventory after a weekend manning the Mythic Delirium Books table at Boskone — my first time manning a table in a dealer's room since 2019.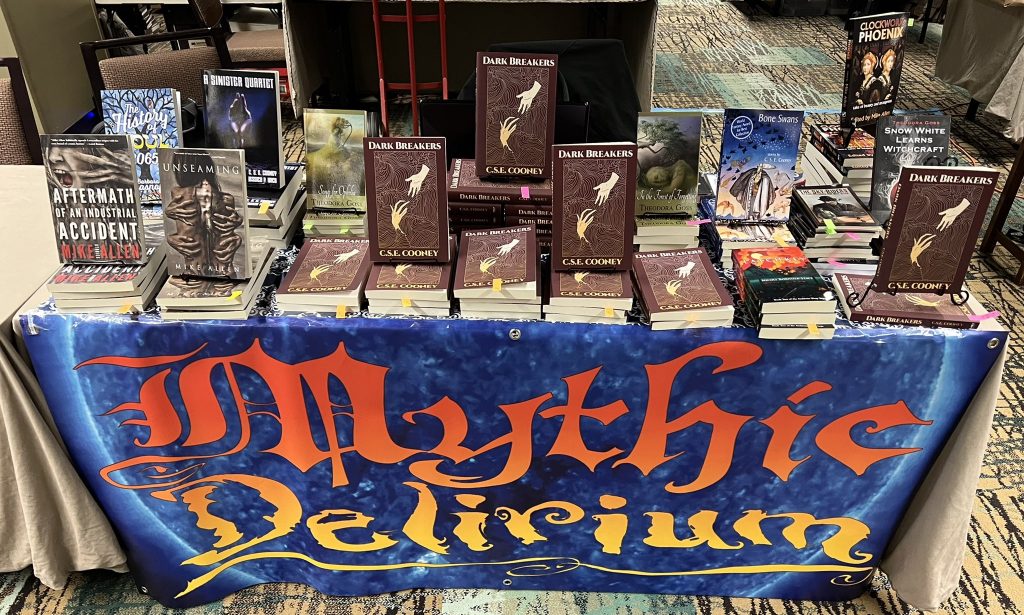 I'm happy to have done it, just to have given this wonderful new book a fraction of the introductory fanfare it deserves. And now we get to make a special offer to those who were not there to celebrate in person.
(This offer was delayed a bit by both day job work and unexpected health problems, but trust us, it's worth the wait.)
You can order these signed copies of Dark Breakers directly from us, and only from us, though Paypal. Scroll down to find those buttons.


Signed copies of Dark Breakers
| | |
| --- | --- |
| | Signed Dark Breakers hardcovers have sold out! |
Sold out: However, first, check this out:
Sold out: We had the honor of publishing a short novel by Cooney, "The Twice-Drowned Saint," in our 2020 anthology A Sinister Quartet. We have just a teeny handful left of our Sinister Quartet copies that contain bookplates signed by all four authors (Mike Allen, C.S.E. Cooney, Amanda J. McGee and Jessica P. Wick).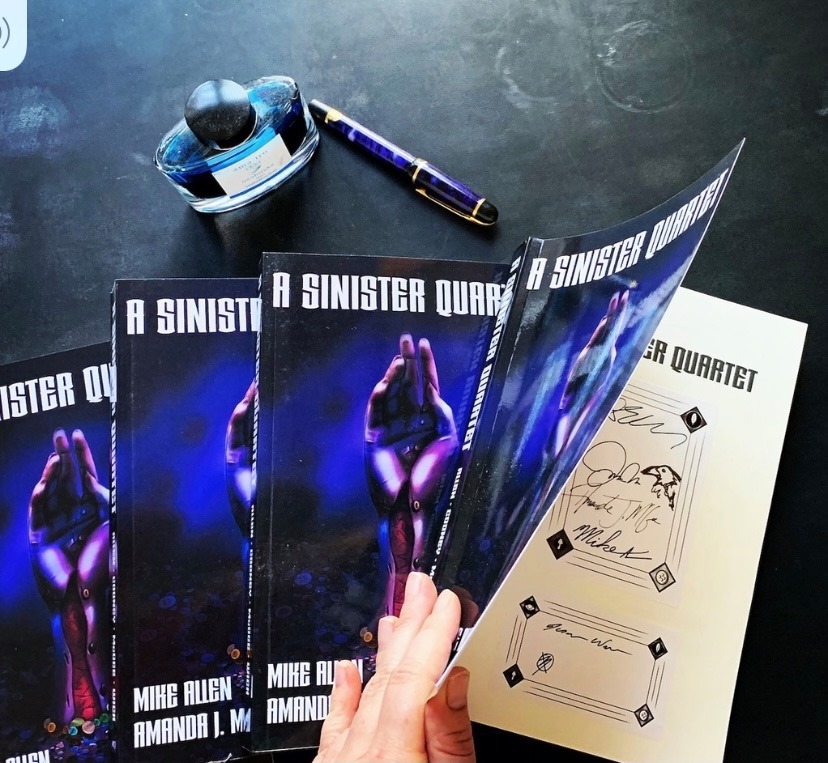 Sold out: This photo [courtesy C.S.E. Cooney] shows an additional bookplate signed by both contributing visual artists. These are no longer available chez moi.
Sold out: For just an additional $10, we'll add a signed copy of A Sinister Quartet to your purchase of a signed copy of Dark Breakers, and while we're at it will include the spectacular postcards created for each story by paper cutout artist Paula Arwen Owen. This is a very very limited offer, first come first served, as these Sinister copies will run out fast.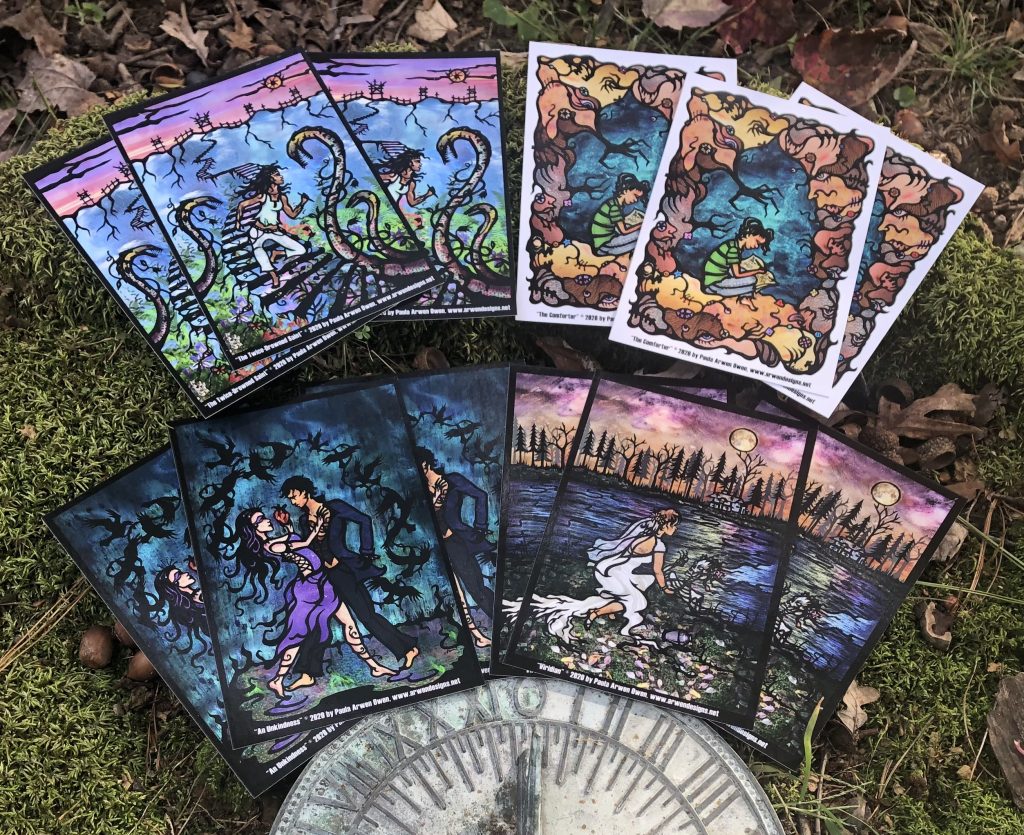 By the way, the signed copies of Dark Breakers also come with swag, placed in their pages by Claire herself. (Included swag may not be precisely what is pictured.)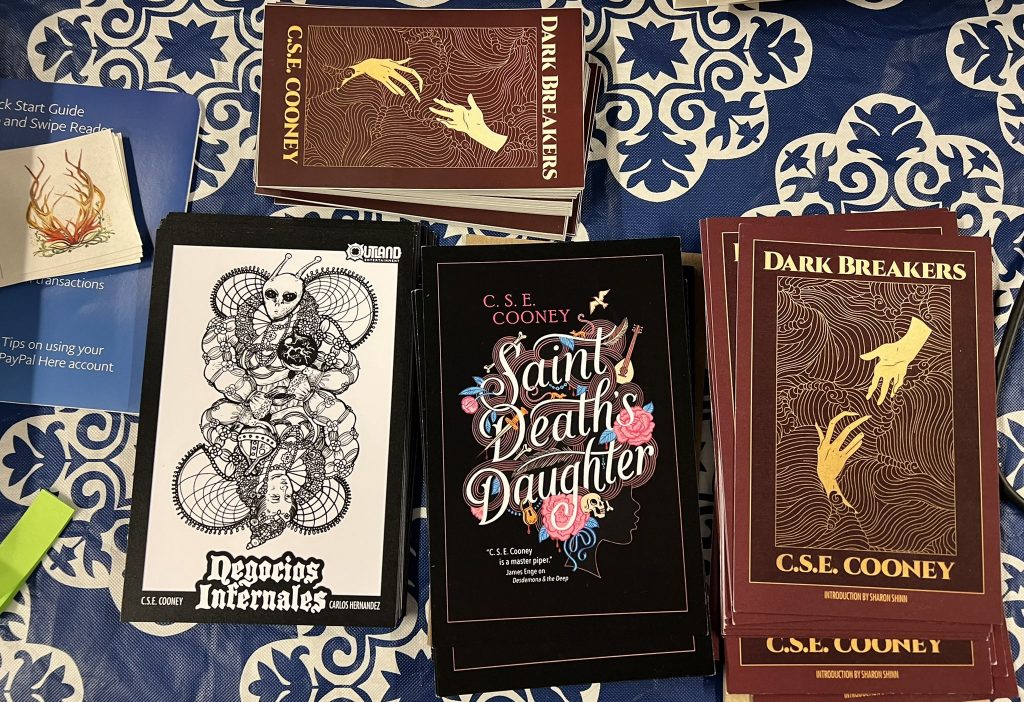 Want multiple copies as gifts? Get in touch and we will talk.
Dark Breakers has gotten a ton of rave reviews in its first month of existence. Check 'em out here!