June sale on DARK BREAKERS by C.S.E. Cooney — discounted e-books and special signed copy deal
Over the years C.S.E Cooney has shared some amazing work through Mythic Delirium. Her debut collection of haunting dark fantasy, Bone Swans, won the World Fantasy Award in 2016, and the title story was a Nebula Award finalist. More recently, in 2020, Locus Magazine placed "The Twice-Drowned Saint," her contribution to our anthology A Sinister Quartet, on their 2020 Recommended Reading List for Best First Novels.
Now, it's Dark Breakers' turn to shine.
The five stories in this new collection offer views into a world where humans co-exist with gentry and goblins without knowing it, and show what happens when they find out. In "The Breaker Queen", a young human painter and an ageless gentry queen fall in love over spilled wine, but end up fighting for their lives during a usurper's coup. "The Two Paupers" finds feuding neighbors pulled into the Veil Between Worlds as they get swept up in a war of succession. An investigative reporter infiltrates the Seafall City Laundries to write the exposé of a lifetime in "Salissay's Laundries". Returning to an oak grove to scatter her husband's ashes in "Longergreen", an elderly widow meets an otherworldly friend, who offers her a momentous choice. Lastly, "Susurra to the Moon" shows two gentry queens plotting to hijack a human rocketship and steal the moon out of the sky.
Two-time Nebula Award-winning author Fran Wilde describes Dark Breakers by saying: "If Titania herself were to commission a book, it would be this one."
Scroll down to the links below
to take advantage of this e-book special while it lasts.
Along with the discounted e-books, Dark Breakers is available in hardcover and paperback editions — and we have a special offer on signed paperbacks that you can read about below!


Get the e-books on special at the links below.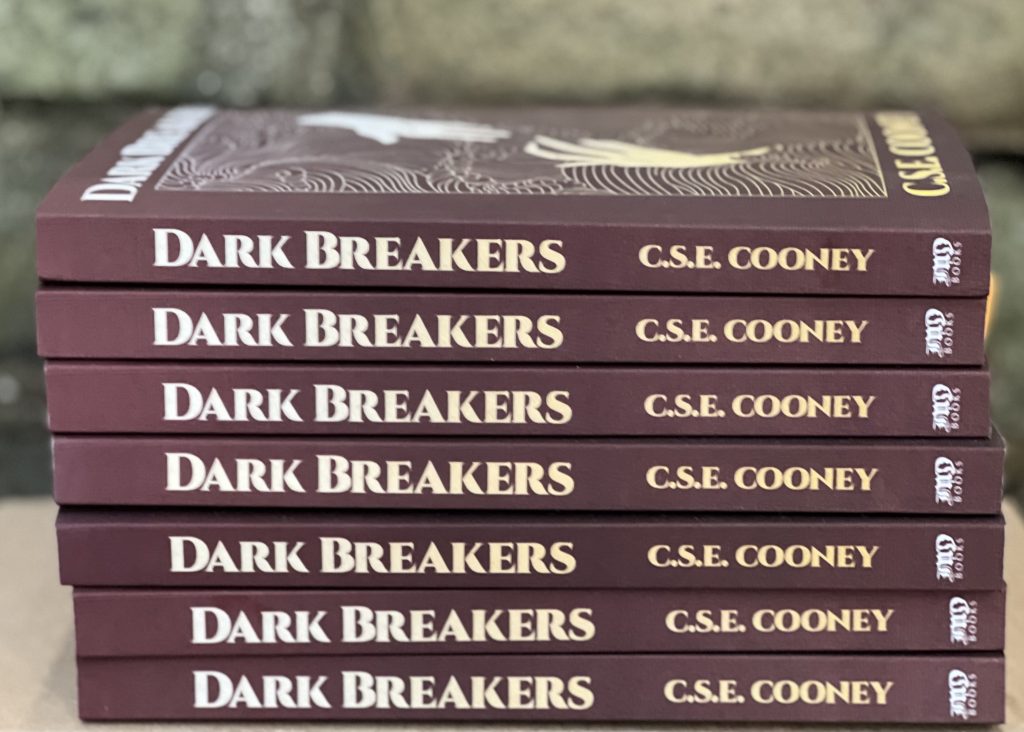 While this e-book sale is ongoing or until our stock of signed copies of the trade paperback edition run out, we're running a
U.S. only offer
on these copies signed by author C.S.E. Cooney with a discount on shipping. Get them while you can!