MYTHIC DELIRIUM 0.3 is here!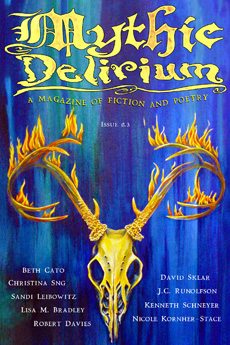 We're celebrating the new year with the release of our first issue of 2014. This wintery mix, full of bones and dire straits, features stories by Nicole Kornher-Stace, Kenneth Schneyer and Robert Davies, and poems by Lisa M. Bradley, Sandi Leibowitz, J.C. Runolfson, David Sklar, Christina Sng and Beth Cato. To receive the full issue, you can subscribe, or purchase individual copies at Weightless Books or Amazon.

Our January content is already online. Nicole Kornher-Stace brings us a harrowing tale of a mother's efforts to keep her son safe from the walking dead, while Lisa Bradley and Sandi Leibowitz share encounters with unearthly beings of bone. Click the links below to read on.

Present • Nicole Kornher-Stace
Backbone of the Home • Lisa M. Bradley
Old Bone • Sandi Leibowitz

Click here to see the full table of contents, read the editorial, and learn more about the cover artist.

#SFWApro