New MYTHIC DELIRIUM x 2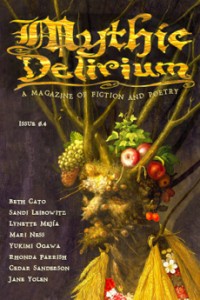 We've just released two different issues of Mythic Delirium.

Mythic Delirium 0.4 wraps up our first year publishing our zine in digital form. This faery-themed spring issue explores myth and garden magic.

Our April featured content from our new issue is free for the pickings: "Seedpaper," a new short story from Rhonda Parrish; and poems "a recipe" from Lynette Mejía and "Princess: A Life" from Jane Yolen, the latter a part of Jane's new series of Sleeping Beauty-themed poems, "Hedge/Briar/Rose."

To read the full issue, you can subscribe at the Mythic Delirium Books site or at Weightless Books, or purchase the issue at Weightless or Amazon.

We've also released Mythic Delirium 30, the final issue of our DIY-zine in its original all-poetry, laser-printed, hand-collated form. This is a retrospective issue covering 1998 to 2011, with popular poems and overlooked gems handpicked by Anita from our first 24 issues.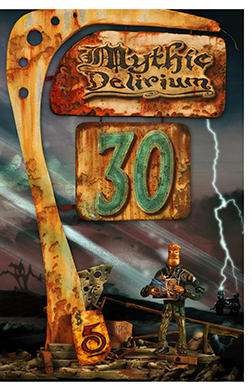 Chronologically, the contents start with "Co-authoring the Delirium" by Charlee Jacob, the very first poem in our very first issue, recipient of an honorable mention in Ellen Datlow & Terry Windling's The Year's Best Fantasy and Horror; and end with "The Library, After" by Shira Lipkin, winner of the 2012 Rhysling Award for short poem. In between there's works by Ann K. Schwader, Amal El-Mohtar, Kendall Evans, Theodora Goss, Sonya Taaffe, Jennifer Crow, Jack Fisher and Wendy Rathbone and many more.

There's only one place you can purchase Mythic Delirium 30: right here.

These two issues together mark the final rewards we pledged to produce using funds from the Clockwork Phoenix 4 Kickstarter in 2012. We've come a long way since that project began. What an amazing two years it's been.

Thanks, all, for your support.

#SFWApro