The MYTHIC DELIRIUM anthology: cover reveal and table of contents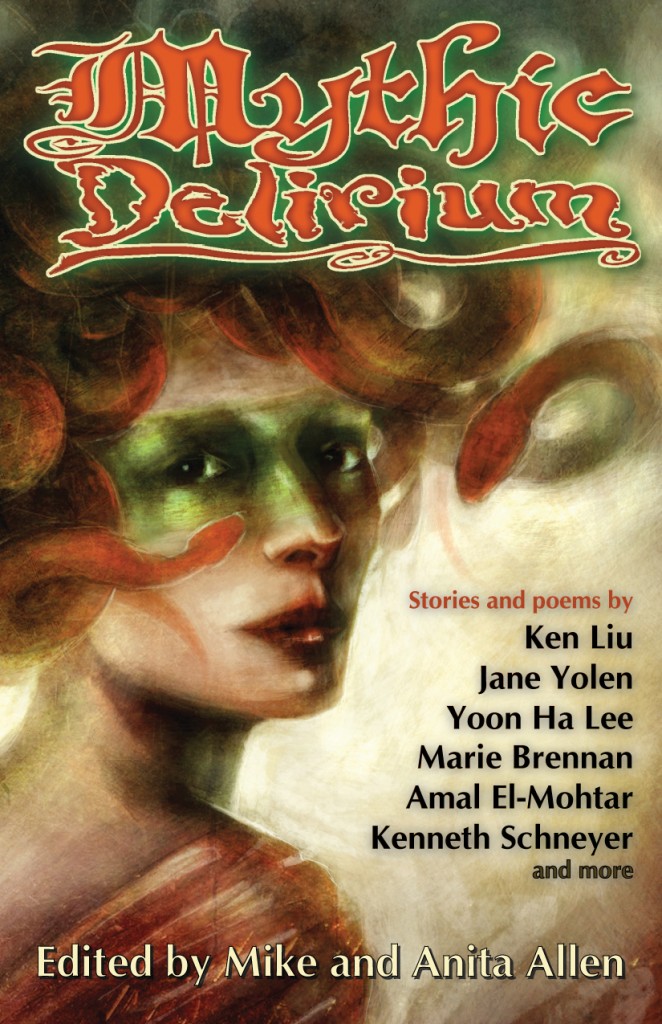 Okay, so we haven't quite kept this a secret. (How could we sit on a treasure this pretty? Seriously?)

Nonetheless, consider this the official cover reveal for the first Mythic Delirium paperback anthology. We're proud to have Hugo Award winner Galen Dara on board as our cover artist for this first venture into not-quite-charted territory.

I add the caveat because obviously it's not our first venture into paperback anthologies. Once upon the time there were the two MYTHIC anthologies (volume one, volume two) and of course there's the entire Clockwork Phoenix series (the homepage for them now lives here.) In a way, this book is a return to what we tried in the MYTHIC series, this time with much more experience that we can bring to bear.

The creation of an omnibus anthology of the first four issues of Mythic Delirium magazine's digital incarnation (collectively known as "Mythic Delirium Zero") was the stretch goal of the Mythic Delirium Kickstarter. Rather than simply offering the exact same thing on paper that we've offered in ebook and web form, I hit upon the idea of letting Anita work her magic and rearrange the stories and poems for thematic flow, so readers really are getting an anthology rather than four zine issues bound together. That approach earned us a starred review in Publishers Weekly (more about that matter in a forthcoming post.)

Our plan is to release the book in time for the World Fantasy Convention in November. Here's the complete table of contents:

"Myths and Delusions: An Introduction" by Mike Allen
"This Talk of Poems" by Amal El-Mohtar
"The Wives of Paris" by Marie Brennan
"Cuneiform Toast" by Sonya Taaffe
"Hexagon" by Alexandra Seidel
"Unmasking" by Sandi Leibowitz
"Ahalya: Deliverance" by Karthika Naïr
"Katabasis" by Liz Bourke
"The Art of Flying" by Georgina Bruce
"Dreams of Bone" by Christina Sng
"India Pale Angel" by Robert Davies
"a recipe" by Lynette Mejía
"Anna They Have Killed" by Jennifer Crow
"The Two Annies of Windale Road" by Patty Templeton
"Zora Neale Hurston Meets Felicia Felix-Mentor on the Road" by J.C. Runolfson
"Princess: A Life" by Jane Yolen
"Present" by Nicole Kornher-Stace
"Old Bone" by Sandi Leibowitz
"Backbone of the Home" by Lisa M. Bradley
"Flap" by David Sklar
"Rhythm of Hoof and Cry" by S. Brackett Robertson
"The Silver Comb" by Mari Ness
"Milkweed" by Cedar Sanderson
"Never Told" by Jane Yolen
"Foxfeast" by Yoon Ha Lee
"Seeds" by Beth Cato
"Seedpaper" by Rhonda Parrish
"The Onion Prince" by David Sklar
"The Girl Who Learned to Live with Bees in Her Hair" by Brigitte N. McCray
"The Giant's Tree" by Yukimi Ogawa
"Two Ways of Lifting" by Virginia M. Mohlere
"Levels of Observation" by Kenneth Schneyer
"Cat's Canticle" by David Sklar
"Nisei" by Beth Cato
"Echoes in the Dark" by Ken Liu
"Voyage to a Distant Star" by C.S.E. Cooney
"WereMoonMother" by Brittany Warman

Here's the full wraparound art.


#SFWApro