Mythic Delirium 1.4: announcing contents, cover and a special debut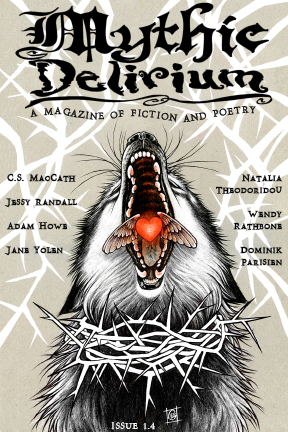 I'm thrilled to be able to reveal the cover and contents for the next issue of Mythic Delirium — Number 1.4, April-June 2015. This is the issue that will mark two years of our zine's reincarnation as a newfangled digital thing.

I'm also honored to actually have the bragging rights to the following bit of news: this upcoming cover marks the American debut of Italian sequential artist Elena de' Grimani, creator of the vampire comic book and character Rigel, published by Panini Comics/Marvel Italy. Elena both writes and draws her storylines; other fantasy titles she's created with a Gothic theme include Tinebra and Luna.

She's also a fan of the German industrial metal band Rammstein, something she has in common with us. Italian music magazine La Repubblica XL has published her portraits of the band members.

Anita and I pride ourselves on recruiting an international cast for our show, and we're thrilled to have extended our penchant for important debuts to the visual art side of our publication.

Welcome, Elena!


That said, the rest of this issue is pretty terrific too. Here's what we'll have in store:
Featured in April
• "Sing the Crumbling City" by C.S. MacCath
• "Time Travel Autumn" by Wendy Rathbone
• "The Traveler's Wagon Speaks" by Jane Yolen

Featured in May
• "Maybe a Witch Lives There" by Jessy Randall
• "Mortar/Pestle" by Jane Yolen
• "Eating and Being Eaten" by Jane Yolen

Featured in June
• "'Kid' Cooper & the Blackwood Ape-man" by Adam Howe
• "Philomela in Seven Movements" by Natalia Theodoridou
• "A Portrait of the Monster as an Artist" by Dominik Parisien

Can't wait to read it? Click here to subscribe.

#SFWApro