New features online by Thakrar, Cleto, Wick; submission window closes tonight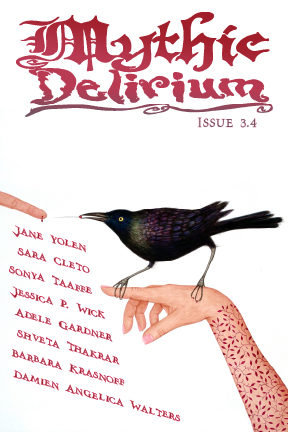 We start May here at Mythic Delirium Books by marking two incremental milestones.
First, our May features story and featured poems from Issue 3.4 are now live on the website.
Shveta Thakrar's sinister tale "Ghost Notes" illustrates how stealing stories can also steal souls, while Sara Cleto's poem "How to Grieve: A Primer for Witches" seeks sorcerous remedies for real pain, and Jessica P. Wick's "The Fetch" posits magical means for reclaiming one's own life.
If you don't want to wait to read our offerings in June, here's how to subscribe.
Second, today is the last day of the Mythic Delirium magazine submission window. If you haven't checked out our guidelines, they are here. If you want to submit stories or poems, don't delay.
#SFWApro