September featured works are live: Sandner, Crow, Yolen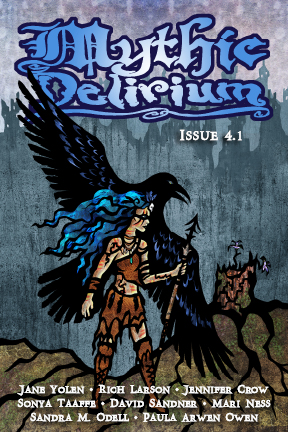 The last of the featured fiction and poetry from the July-September issue of Mythic Delirium is live on our site, and free for all to read. This means the full issue is available now on the web, so I hope you'll take the opportunity to check it all out if you haven't yet.
Here's what's new in September:
In "Sunrise with Sea Monsters," David Sandner envisions the beauty, magic and madness that inspired a moving work of art.
Jennifer Crow elaborates on the complex web of an eerie masquerade in "Masques and Mayhem," the details revealed serving to deepen the mystery.
In her poem "Night Does Not," Jane Yolen suggests that darkness is not the ultimate source of fear.
Next month, the final issue of 2017 will arrive, with new fiction from James Van Pelt, Daniel Ausema and Premee Mohamed, and new poems from Trent Walters, Virginia M. Mohlere, Alix Bosley, Maura McHugh, Mary Soon Lee and David C. Kopaska-Merkel. Keep an eye out for it, you'll like what you see.
#SFWApro