December features at Mythic Delirium now live: new works by Mohamed, Lee, Kopaska-Merkel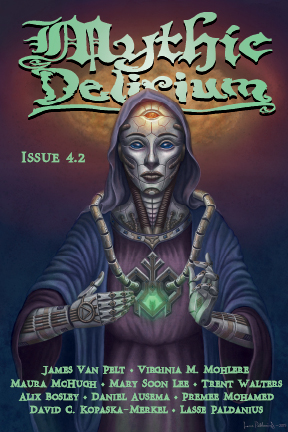 Our final features to offer from the Fall 2017 issue of Mythic Delirium have gone live. Here's what we're serving up to help you navigate the holiday season:
Premee Mohamed's wonderfully playful "The Water and the World" picks up the baton of oceanic (and perhaps even Lovecraftian?) mythology and dashes full speed into the hyper-media-saturated world of professional sports.
In "Lotus Moon," Rhysling Award winner Mary Soon Lee provides a compelling glimpse into the history of King Xau, the main protagonist of her epic poem cycle The Sign of the Dragon.
Science Fiction Poetry Association Grand Master David C. Kopaska-Merkel's hilarious "Signs" raises the ever-relevant question, how many bad omens does it take for folks to get the hint?
As I write this I'm also in the midst of assembling our Winter 2018 issue, with fiction by Jaymee Goh, Jennifer R. Donohue and Tiffany Trent, poetry by Cassandra Rose Clarke, Donald Raymond, Beth Cato and Christina Sng, and cover art by Ruth Sanderson. Y'all come back now, y'heah?
#SFWApro