LATCHKEY: a round-up of many reviews + upcoming author reading reminders
Nicole Kornher-Stace's Latchkey, the first novel ever published by Mythic Delirium Books, has accumulated a number of superlative reviews since I last did a roundup (a sinfully long time ago).
We're thrilled that the book has already earned out its advance — thanks so much, all those who have purchased it so far! — and there are other cool things that have happened that we're not allowed to make public yet. (Though we sure will once permission is granted.) And before I launch into the praise the book has earned, I want to remind everybody about upcoming appearances by Kornher-Stace to plug/read from Latchkey and related works: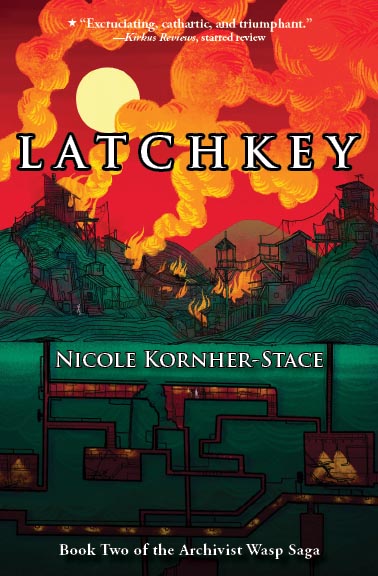 Now, to get caught up on all things reviewers have said.
In another wonderful first for Nicole and Mythic Delirium Books, Latchkey earned a starred review from School Library Journal.
"Archivist Wasp fans, prepare to be delighted . . . Genre fiction fans who prefer their speculative tales without romance will appreciate this action-packed work . . . Teens who enjoy reading extended fight scenes and want immersion in an extraordinary world will enjoy Kornher-Stace's second act."
More praise arrived before and after.
From Tor.com:
"The uneasy coexistence of a ravaged future landscape and the presence of the restless and tactile dead sets this fictional setting apart, and makes it particularly memorable . . . The combination of two future timelines—one of a ruined earth, and one of the militaristic one that preceded it—continues to tantalize in terms of how one led into the other, and whether some of the strange properties of Isabel's world have their roots in the earlier period. And the multiple conflicts on display—humans against humans, humans against ghosts, ghosts against ghosts—offer a fascinating and constantly shifting backdrop for Isabel's discovery of the secret history of her world."
From The Book Smugglers:
"Latchkey took my breath away in different little — and big — ways . . . A story about found families and friendship. A plot that features the investigation into the murder of multiple people twinned with the mystery at the HEART of the archivist's power itself. The arc of a young warrior girl who has found a best friend and a family in the most unlikely way."
Ana Grilo of The Book Smugglers also plugged Latchkey in a column on summer reading for Kirkus Reviews:
"Archivist Wasp was awesome and I didn't know there was going to be a sequel. But here we are three years later blessed with Latchkey, which somehow managed to be as great as its predecessor, still featuring Wasp and her BFF ghost having adventures together and trying to figure out the past AND saving other ghosts AND the world."
From Den of Geek:
"The mix of genre is one of the most remarkable things about this series. Post-apocalyptic cults and raiders meeting a world of superheroes feels natural and exciting in Kornher-Stace's ruthless prose. She creates cinematic scenes with a texture rarely found in science fiction . . . Latchkey is a masterful example of sustained tension within story."
From Nerds of a Feather:
"Latchkey takes the genre-bending mythology of Archivist Wasp and grounds it in a bigger, busier world, creating a different but worthy reading experience."
From The Illustrated Page:
"I'm getting emotional thinking about how much I love the friendships in these books . . . Latchkey dramatically enlarges the cast. Not only does Isabel have a friend, she now has multiple friends and has become something of a community leader. Much like friendship, community is something she's never had before. And now it's in danger. If Archivist Wasp was a Power of Friendship story, Latchkey is a Power of Community one. I think it's a lovely growth from Archivist Wasp's original themes and shows growth in Isabel's character."
From Fictitiously Speaking:
"This story is marvelously atmospheric: the endless, oppressive tunnels, ghosts in various stages of decay around every corner, and the thinnest of separations between the world Isabel travels and the memories of those long dead. I love the deep bond between Isabel and the ghost (we never know his name), and the fact it's bonds of friendship and loyalty, not romance, that takes center stage throughout."
Find earlier reviews of Latchkey here, and a roundup of interviews with Nicole here.
#SFWAPro