Zoom reading from A SINISTER QUARTET + new stories showcased at Decameron Project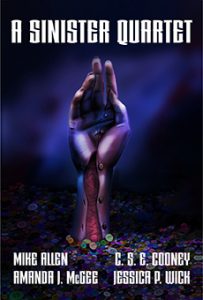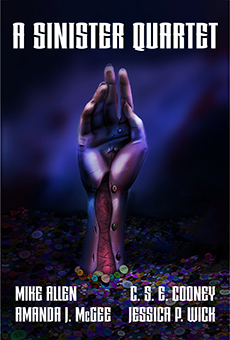 The COVID-19 crisis has required us to get creative as we promote our forthcoming anthology A Sinister Quartet, as live events remain out of the question for the moment and review venues deal with disruptions in schedule and income. We've had some good breaks to make up for some of the bad, and my three co-authors, C. S. E. Cooney, Amanda J. McGee, and Jessica P. Wick, have been great at brainstorming all new things to try out in the weeks leading up to the release of A Sinister Quartet on June 9.
The biggest of these so far was an invite-only reading on Zoom held on May 7 that all four of us where able to take part in. Credit to Amanda McGee for coming up with the idea and to our buddy Steve Glassbrenner for helping us with the set up logistics. Claire Cooney read the fourth chapter of her short novel "The Twice-Drowned Saint," Jessica Wick read a harrowing passage from the third chapter of her novella "An Unkindness," Amanda read the prologue and first chapter of "Viridian," and I read the second and third chapter of "The Comforter." Afterward we had a Q&A session in which we talked about why we do (or don't, depending on who answered) choose to write dark fiction and discussed some of the surprising thematic connections that exist between the four stories, even though all were created independently.
Amanda and Steve were able to record the event so that afterward, we could share it publicly. Read Amanda's own blog entry on our reading here.


Authors Mike Allen, C. S. E. Cooney, Amanda J. McGee and Jessica P. Wick participated in a group reading for A Sinister Quartet that took place Thursday, May 7, 2020, on Zoom. Watch each author read excerpts from their 'sinister' stories.
Both A Sinister Quartet and my own upcoming collection of horror tales Aftermath of an Industrial Accident have been beneficiaries of a cool new project first through up by Mythic Delirium contributor Maya Chhabra. (Read her poem "After Pandora" here.)
The New Decameron Project, organized by Maya and the amazing Jo Walton, is a wonderful way to provide reading material for everyone stuck at home because of the pandemic — in the spirit of the original Decameron, this Patreon offers new stories and novel excerpts every day.
In recent days, the New Decameron Project featured the mind-blowing second chapter from C. S. E. Cooney's "The Twice-Drowned Saint," the first tale in A Sinister Quartet; and the project also featured the entirety of my new story "Blue Evolution," one of the original stories featured in my collection Aftermath of an Industrial Accident, which gets released July 7. It was a real honor for us to take part!
Links to the stories below.
Read Chapter II. Interior: The Celestial Corridor
from The Twice-Drowned Saint by C. S. E. Cooney
at the New Decameron Project
Read "Blue Evolution," an original story
from Aftermath of an Industrial Accident
free at the New Decameron Project