Three questions for Theodora Goss + THE COLLECTED ENCHANTMENTS is here!
And now, debut day has arrived for Theodora Goss's new collection The Collected Enchantments, the second release of Mythic Delirium's 25th anniversary celebration! (Read more about the first, novel The Twice-Drowned Saint by C. S. E. Cooney, here.)
As of today, both The Collected Enchantments and The Twice-Drowned Saint are available everywhere books are sold. If your local store or library doesn't have them, consider asking them to acquire copies.
To reiterate: Mythic Delirium will have a presence at Boskone 60 from Feb. 17-19, and if you want to get a signed copy, that's the place to be. Anita and I will be manning a table in the dealer's room, and authors C. S. E. Cooney and Theodora Goss will be present for a book party Saturday the 18th at 5:30 p.m. and group reading Sunday the 19th at 11:30 a.m. (Click here to see my schedule; click here to see Claire's schedule; click here to see Dora's schedule.)
Here is the full schedule of Mythic Delirium-related events:
Saturday

5:30 PM.

Boskone Book Party/Autographing.

Mike Allen, C. S. E. Cooney, Theodora Goss, Dana Cameron, Michael Green, Andrea Hairston, Laurie Mann, Steve Miller, Yvette Lisa Ndlovu, Annalee Newitz, Cat Scully, Jane Yolen. Come join the fun at Boskone 60's Book Party. You'll meet the authors and publishers who have new books coming out at the con! This is your chance to see what's new from writers you already love, as well as those you have yet to discover.
Sunday

11:30 AM:

Group Reading: Mythic Delirium Books.

Mike Allen, moderator. C. S. E. Cooney, Theodora Goss. Our group reading will feature three readers from Mythic Delirium Books who will each read from one of their published or in-process works. They will also host an author Q&A as time permits.
We hope to see you there, but in case you can't make it (or even if you can) here's a bit of extra to make up for not getting to hang out with us in person right this moment:
Three questions for Theodora Goss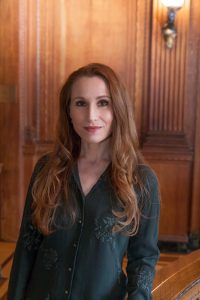 Q: What does it mean to you to have this comprehensive overview of your short fiction and poetry available for readers?
"I loved putting this book together so much. I write all sorts of things, but at heart I'm a fantasy writer, in both prose and poetry–and this collection brings together what I think are the best fantastical short stories I've written, as well as the best fantastical poetry, since I started writing professionally. I don't know, I hope I picked the right stories, but these are my favorites and I'm so glad that I could bring them together into one manuscript, where they could curl up next to one another, whisper to one another—princesses and goose girls, bears and dragons, ogres and poets and witches and all the denizens of fantasy, including the ordinary people who wander there and are usually not so ordinary after all."

Q: What makes you decide to approach folk and fairy tale themes in prose and what makes you choose poetry?
"I'm not sure I'm the one who decides that! I think the stories themselves decide what they want to be. Sometimes they want to be stories in poetry, and sometimes they want to be stories in prose. I suppose that has to do with the way I write. Sometimes, it doesn't even feel as though I'm writing, at least during the first draft. It's as though I can hear the words, and sometimes they're poetry words, and sometimes they're prose words. I write them down, and they create a shape, a pattern. And then of course I have to go back and revise—that's when I can make decisions. But by then the basic pattern of whatever I'm writing has been set, the basic shape is already there and I'm refining, trying to make the outline of that shape clearer, fiddling with the colors or the pattern. If the initial inspiration isn't there, if the words aren't talking to me, I can't write anything—so I find that I have to be listening. But when I listen, when I pay attention, there they are, as though the whole world were made of words."
Q: What are you doing now and what do you have coming up?
"I'm teaching and writing! Which is usually what I'm doing. I'm not quite sure yet what the next project will be, but I hope readers will like it. And in the meantime, they can find me online, and of course in the pages of this book—but hopefully they will find themselves in it as well, because it's really a mirror, or maybe a forest where you can find yourself, or the house of Mother Night. Or probably, all of those at once."
Buy The Collected Enchantments now!