June featured story and poems are live: Krasnoff, Yolen, Taaffe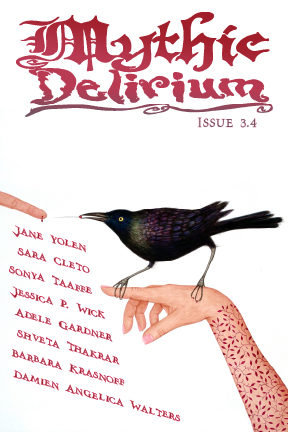 The last featured content from our April–June issue is now free for all to read, bringing our magazine's fourth year as a digital publication to a close.
In "The Ladder-Back Chair," Nebula Award finalist Barbara Krasnoff details a moving encounter between the living and the dead.
2017 Science Fiction and Fantasy Writers of America Grand Master Jane Yolen describes a brush with grief personified in "Grave Robber."
An inscription in limestone made more than two thousand years ago inspires Ghost Signs author Sonya Taaffe's "bn ʾdnbʿl bn ʾdrbʿl."
Our summer issue is preparing to shine in its July debut, with beautiful cover art from Paula Arwen Owen, new stories from Rich Larson, Sandra M. Odell and David Sandner, and poetry from Jane Yolen, Sonya Taaffe, Jennifer Crow and Mari Ness. If you'd like the chance to read every bit of it before the stories and poems are doled out on the web, here's how to subscribe.
#SFWApro